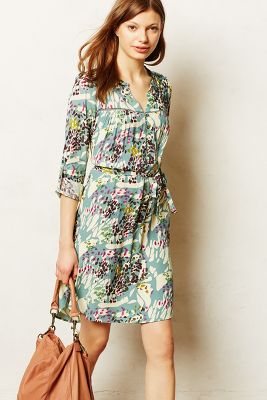 Clicking through Anthropologie's
new arrivals
a few days before a bunch of new stuff comes in, it's clear that summer is in high gear -- finally! I've found some new pretties to love and wishlist (and review!) like the
Wanderlust Dress
($138) and more, inside.
It seems like Anthropologie has quietly been releasing longer silhouettes like the
Matepe Dress
($128), the very presence of which makes it easier for me to appreciate the
Pasteque Dress
($148), a cute modern strapless take on summer tweed that I would love to bring home on sale. Not full price because who would be able to wear that every week or two? Not me anyway. Likewise the
Pen & Ink Dress
($398) which makes me want to do my sweet 16 over again. In terms of out there coolness, the
Twilight Temple Dress
($278) takes the cake.
In the flowy but beautiful department lands the
Dahlie Tank Dress
($168) which has a beautiful neckline, ethereal feel and as the sole product review states is perfect for the day when you want to wear something that doesn't hug. The
Embroidered Tindari Tunic
($148) has a similarly loose fit, kind of boho/tribal via a vaguely deco-like sequin pattern. With the right styling maybe this could work for the
Jazz Age Lawn Party
I like to attend every August on Governor's Island. And of course I must again mention how enamored I am with both the
Waltham Embroidered Dress
($198) and the
Bennington Dress
($178).
But for every hit or wishlist addition there are still a bunch of misses, dresses that come close like the
Lapis Halter Dress
($158) which is beautiful from the front and wtf from the back.
Looking around the rest of the clothing my mind is finally settling into summer, even as retailers are already jumping ahead to fall. I cannot deny my love for the
Jody Crossed Romper
($178) -- it's the perfect pants romper to me. Then I have about 85 white tops on my wishlist, kicking off with the
Shimmered Azucar Tunic
($98,
review
), all of which will go well with the 85 white tops I already own! (I do go through them quickly it seems like.)
I've also found some shorts to love recently. I adore the
Scalloped Tap Shorts
($48) -- a pleasant and fairly-priced surprise. They were in my latest Anthro order -- I took my usual size medium to wear them at the waist. Among my recent purchases are the
Paxi Tank
in an x-small in black & white ($118, review upcoming), the
Tyra T-Strap Sandals
in nude (now $60, true to size but no comfort whatsoever) which can also be found
via Zappos
and several items yet to arrive.
I'll have a new round of Anthropologie reviews kicking off next week, plus Girls From Savoy reviews coming tomorrow! What's new to your Anthro wishlist? What
new arrivals
have caught your eye?