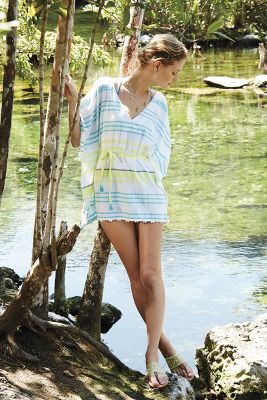 Before Anthropologie's June catalogue appears on the website, here's what I've added to my wishlist recently. Plus, what's caught my eye around the web and in other stores.
I was going to wishlist both the
Rosalyn Dress
($298) and the
Tweeded Colorblock Shift
($275) for work until I saw how short they are. I don't know why this is such a recurring issue with Anthro lately but it's a total bummer. Similarly, I'm rejecting this
Bailey 44 dress
as being too short for work...but approving it as just right for summertime dates. Elsewhere, I'm in love with this Kate Spade
dress
-- never met a jeweled neckline I didn't like! I love the neckline on this
Tory Burch dress
too, and the one
Atlantic Pacific just stunned
in was also on my wishlist though now it's off. It will always make me think of AP now. Also hunting down this Tracy Reese
dress
(though I am disappointed to read in the reviews that the production version differs from the model shot, boo).
One place I've had
fantastic
luck lately is LOFT, to the point where I'm having a bit of an identity crisis. I love...LOFT?!?! But I do. I purchased
this dress
(much whiter in real life) and
this one
and they are both pure perfection. Here's
another great eyelet option
. I've worn the latter out on a couple of weekend social dates with great success! It's so great that LOFT offers regular, petite and even tall versions of most of their dresses! LOFT's stuff seems to be running huge so I sized down to a 4 in both. I also ordered
this dress
(going back -- a little cheap-feeling to me) and
this one
(I need to size down again to a 2, eep). And I have my eye on several more. Until 10 AM EST
you can take $50 off your LOFT.com order of $100+
with the code
FLASH
if you so choose...and I most likely will.
In skirts, I'm intrigued by
this Nordstrom offering
which is part mini, part knee-length. ASOS has
something similar
in its Curve section. Madewell has absorbed the message that we want longer skirts, sort of. I like
this longer offering
and could maybe
make this shorter one
work. Maybe not. The longer skirt would be cool as a de facto dress with the
matching cami
, or you could vary it a bit with the same pattern in a different color.
You can take 20% off select styles
at Madewell today only with the code
24HOURSALE
.
Speaking of de facto dresses, Clover Canyon is having a sale right now and I've purchased
this crop
and
this skirt
hoping they will work together on me. If not it was fun trying!
What have you added to your wishlist recently, Anthropologie or otherwise? What purchases have you been happy with lately?