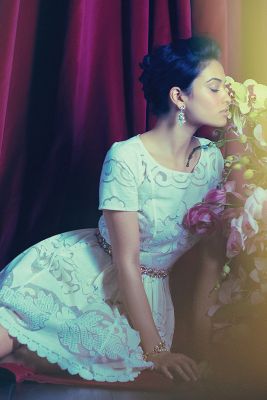 Time to take a look at some of Anthropologie's pretty spring frocks,
Dresses, dresses, dresses! In this reviews set we take a look at 6 of Anthropologie's current frock offerings.
Style #: 4130580816654; blue motif (049) or orange (089)
Note: For sizing reference I am 34-29-38, a size 6/M in dresses. I'm 5'8".
High necklines are one of the unfortunate trends for dresses this year. There's been many a cute dress I've seen where my overall proportions are thrown off by the lack of scoop neck. In the case of the
Canna Shift
($158), it's wrong at both ends. The neck is very high and the skirt is very short. Shorter than it looks by the angle of these photos -- it hit me about mid-thigh.
It's too bad because this dress is made from a lovely silk. There's a half-zip in the back and no pockets. The two colors of this dress look nothing alike. I'm in the blue motif above while the orange version looks like a scarf. (I like it.) The dress has large armholes that luckily don't drop too low and black piping at the neckline and on the sleeves.
On Anthropologie's website the dress looks loose. On me, not the case. I'm in my usual size 6 for the photos above and found it tight around my butt and hips. The top half however was nice, so I'm sure an 8 would be loose up top with a perfect bottom. Easy enough for a tailor to fix. Still, with nothing going on around the waist this dress looks like a rectangle on me. True the very definition of a shift dress is straight up and down. It's not the shape for me.
The print on this dress is exciting and the colors enticing, but the fit does nothing for me. Pass.
Style #: 4130336414472; black motif (009)
I first talked about the
Talassemtane Maxi Dress
($128)
a month ago
, before it was even on Anthro's website. Since then it's gotten mainly praise and upteen reviews. Well deserved. This is one of the nicest maxi dresses Anthropologie has come out with in a
long
time. The teal-splashed ikat print is cool and the cinched waist is just wonderful. Made from rayon and spandex, this dress has a lot of stretch which is helpful for accommodating busts of different sizes. The dress is fully lined -- in fact in the photos above I'd left the bottom lining bunched up at the waist by accident, oops! -- and there are hidden side pockets. Once I smoothed out the lining the shape of the maxi became even more flattering. It's nice and long too, spilling to my feet which is a nice change from many of Anthro's maxis which are far too short on my 5'8" frame.
Sizing was a bit tricky for me. The small fit nicely but was stretched to the limit over my bust. So I also tried on a medium (not shown), my usual size, but found it too loose everywhere. I'd stick with sizing down to a small. Another minor challenge is that the print is placed differently on every dress. There was just a little teal on the bodice of this dress, while
another one I tried on
had teal right in the middle. It took me awhile to find the right print placement.
I can easily see this dress being a summer staple, and before then it will look great with a light spring coat over it. I didn't wait on this frock! It's already in my closet.
Style #: 4130075280011; green motif (038)
With a seriously open back done in a beautiful way, the
Quinby Dress
($168) is tempting on many levels. The turquoise base color is splashed with pretty florals in colors not too bright. There's a cinched waist and a bodice in unfortunately short proportion. Made from nylon, the dress has a strange mesh feel to it though it also feels airy and breathable, two very important criteria for warmer weather.
Like the Talassemtane above, the print placement on this dress varies. While the cinched waist is very nice, the skirt has a very strange hem front and center. I have no idea why Weston Wear and Anthro decided to do this, but it's the kind of thing that drives me nuts. After awhile, all I could see was that misaligned seam cutting a yellow flower nearly in half and slowly turning me mad. The back is not very bra-band friendly but it's worth it to wear a low-back bra, the effect is gorgeous. I tried on my usual size medium which fit fine if not exactly flattering. The dress is a little long, hitting right across the widest part of my calves.
There are some excellent thoughts in this dress but the finished design doesn't really impress me. This dress is beautiful from the back and troublesome from the front. Alas, I cannot walk backwards all day. So back to the rack this went.
Style #: 4130204584747; ivory (011)
Am I getting shorter? I felt a bit like a kid in a dress I hadn't quite grown into with the
Ivoire Dress
($188). There is no denying how lovely this dress is! The ivory laser-cut lace is over a thoughtfully designed mauve lining, which makes this dress even more ethereal garden wear than it first appears. Plenty of pleats populate the skirt part while the bodice is darted and has a small portrait window in the back, high enough not to reveal any undergarments.
The lace is a cotton poly mix while the lining is acetate and slippery. The skirt portion has a small line of tulle at the bottom for some extra floof. This dress is nice and long, hitting across the bottom of my knee. I feel that the sleeve is a little too long though. Also, the neckline on the dress I tried was wonky. Not sure what happened there. Some of the online reviews have reported this dress is tight around the ribcage but I didn't experience that. My usual size 6 felt borderline loose.
A beautiful garden party-ready dress. Love! Wishlisted.
Style #: 4130015125572; black & white (018), red (056) or blue motif (049)
The princess puffy sleeve may be a bit of an issue for the sophisticated set, but overall the
Teahouse Dress
($148) is a triumph. This delightful dress has the perfect fit and flare shape with an a-line skirt that cuts a couple of inches above the knee, but has enough volume to still feel practical. There are two slant pockets, a beautiful v-neckline and a lovely cinched waist. The back zip is a bit of a challenge. I got my hair caught in the zipper a couple of times! And on this version the zipper is surrounded by black, making it stand out quite a bit.
This poly-cotton-spandex dress is sadly unlined. The underside is a bit rough against the skin. The material is thick and textured, though not in a way that will make it too warm for summer months. I tried on the black & white version which has a floral pattern all over. In my usual size 6 I found plenty of extra room, especially in the skirt, and would likely go down to a 4 to buy. Those sleeves border on too cute but are easy enough to remove with some careful cutting.
Work to evening potential abounds with this dress! For now, wishlisted.
UPDATE
3.31.2014: I went back to the store and tried on the blue motif version. I wanted to show peeps how the dress looks with one ruffle tucked under, which easily turns this dress into a clear winner for me.
I'm in a 4 for the blue motif version here, and ended up buying this dress right away! I'm wearing it with a cinched belt and a denim jacket over it.
Style #: 4130075284128; black motif (009)
High necklines strike again with the
Aures Sheath
($168), a sheath that has a weird poufing issue across the tummy. Let's talk about the good first. I love the print! From the bottom medallion on white layer to the top yellow-splashed floral vine upon black and white tiled clouds, this dress is very fun! Curiously in back the yellow pattern only goes up to the waist before the medallion print takes over. The dress is the perfect length, cutting across my knees.
The sheath shape mostly leaves enough room for the hourglass shape. But in the front I noticed a clear pouch of extra material over the tummy. It's tricky to get this just right I know, yet now we know why the catalogue model has her arm over her waist. The high neckline pretty much works on this dress thanks to a wider top collar which helps to balance my hips and bust. I'm in my usual size 6 here which seemed like the right fit.
This dress is made from cotton and has a mismatched seam in the back. (At least it's in the back.) It's made in the USA which I always appreciate! Although not perfect this could be a good sale pickup. Wishlisted for reconsideration come sale time.
What do you think of the dresses in this reviews set? What dresses should I try on next?