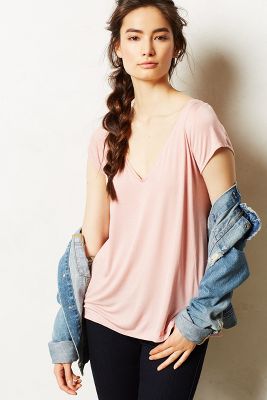 Cute from the front, cool from the back.
After a few weeks off I'm dusting off the ol' reviews tag and sharing my thoughts on some of Anthropologie's current tops assortment. What worked? What didn't? Come on inside and find out.
Style #: 29494267; black & white (018) or three other colors
Note: For sizing reference I am 34-29-38, size 6/M in tops. I am 5'8".
How many different striped tops can one closet hold? Anthropologie's challenging the highest number you can think of via a bevy of options! The latest one I tried is the
Laurelwood Boatneck
(now $40), a top that has stripes both thick and thin. A few little details give the piece additional interest -- the neckline has a floral pattern with two buttons on each shoulder and the side vents have that same floral pattern with two buttons (as seen
here
). I found myself reaching for the black & white version most likely to evoke Parisian chic.
The sleeves on this top are nice and long but the top itself is a little shorter than I'd want. The front ends around the crotch while the sides are curiously much shorter, barely clearing my waistband. I typically size down in Postmark and here I'm wearing a small instead of my usual size medium. Although the higher neckline is appreciated for winter it left me feeling that this top is less flattering than something with a lower boat or scoopneck would be. On the plus side the top is very comfortable on, fully opaque with some shape to it that nips in slightly at the waist.
This one wasn't quite a winner for me but if you're looking for a basic cotton striped shirt with a twist, I'd say give it a shot. Just be sure to size down.
Style #: 29340403; holly (032), black (001), nude (012) or wine (061)
Deletta is an in-house Anthropologie brand known for its crinkling, ruching, pleating and such. Thus the
Darby Peplum Top
($48) was easy to recognize as a Deletta piece. This babydoll top has a ruched bib, sleeves that hit right in the elbow crook and a loose peplum skirt. Made from a cotton poly mix, the top has plenty of give everywhere except for the sleeves which I found to fit very tightly. It's nice and long, hitting across the low hip on my 5'8" frame.
I reached for this holly color, which reads as teal to me. Tight sleeves aside my usual size medium felt great on. The neckline plunges but reveals only a hint of what's underneath. The peplum part is loose without being overly so, and in the back an inverted pleat across the shoulder blades helps to keep the top from being too boxy. I wish the sleeves were about 1.5 inches shorter; they'd hit right across the narrowest part of the body and make this top even more flattering! Luckily that's easy to fix by rolling the sleeves slightly, though that was challenging given how tight they felt initially. I don't usually have issues with tight sleeves! I think these would loosen up nicely over the course of the day.
A nice casual shirt that can be dressed up via a pencil skirt, a blazer on top or the right cardigan. Stars off due to the sleeves. Wishlisted!
Style #: 30712012; black & white (018)
For whatever reason Postmark's sleeveless tops end up feeling short on me. The
Fluttered Dot Peplum Top
($68) was no exception. This black & white polka-dotted ruffly top has a torso that's an inch or two too short on me. Otherwise the design is quite cute -- a ruffled neckline and shoulder, a darted bodice and a small frilly peplum. On my curvaceous frame this succeeds in making my waist look tiny, but it also can make my shoulders look very broad. The top is a machine-washable unholy mix of cotton, poly and spandex that feels very close initially but loosens up considerably over the course of the day.
I stuck with my true size medium here. Things I noticed right away: the large armholes that are sure to reveal a bra; the way the peplum floats away from the body about two inches above the spot where I want it to; and the flattering cut over the bust. Perhaps I'd feel better pairing this top with a high-waisted skirt. The material is very thick -- winter weight even with the lack of sleeves. I love the way the polka dots are set diagonally on the side panels. It's super flattering!
This top isn't long enough for me but I do appreciate the thoughtful fit and design details. If only Anthropologie made tall versions of its shorter tops!
Style #: 30741169; green (030) or four other colors
Anthro's experimenting with cutouts right now. Here we have the
Shimmerwing Top
($48) which has two long oval slits across the shoulder blades. They reveal only a bit of skin, rendering this top a casual or perhaps less fancy night out option. The top takes its name from a shiny panel of rayon in back that starts narrow up top and fans out across the butt. In front there's a deep v-neck and a loose, boxy fit. The top is made from rayon and spandex and is longer in back than in front.
I'm in a medium here but it was roomy. I'd go down to a small to purchase the top. Depending on which color you wear the top has a more or less casual feel -- the black in particular feels ready for a night out while I think this green version I tried would be perfect going to and from yoga. There's nothing to define the waist in this drapey piece so I felt a little rectangular. I'd likely wear something over this to help out.
Comfy with a cool twist in back. Glad to see this one's under $50, but likely waiting for sale anyway.
Eira Top ($78) by HD In Paris, TTS
Style #: 29194933; green motif (038) or dark yellow (071)
★★
★
☆☆
Rounding out this take on tops is HD in Paris's
Eira Top
($78), which is erroneously credited to Vanessa Virginia on Anthropologie's website. This top comes in two beautiful patterns -- either the green motif I've got on here or a pretty dark yellow print with medallions and vines. Although this blouse is boxy, it's got a lean shape to it that makes me feel taller and thinner as opposed to short and boxy like many of Anthro's tops. The sleeves come below the elbows which isn't ideal. I'd rather they cut right across my narrowest point, though these at least don't cut across the widest spot on my hips either. They fall somewhere between. This top is made of machine washable polyester and feels light and airy on. The scoopneck is perfection, low enough to frame a necklace yet high enough to be demure.
The print on this top does not vary from top to top, so there will always be a vine sprouting from your neck in the green motif version as you see on me. I felt comfortable in my usual size 6. It was a little loose but not so much that I'd size down. The yellow version is a little sheer in person but this green motif was fine. Wear it over black pants or crops and let the compliments start flowing in.
Long, lean and lovely. Wishlisted!
I'm making the rounds to the NYC Anthropologies this week. What would you like to see reviewed? What do you think of the tops shown in this set?