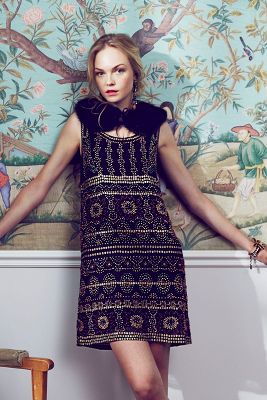 I have several beautiful dresses in my closet. Everytime I tell myself that I'm done buying dresses -- for real this time!! -- along comes Anthropologie with serious temptation. Inside, trying on several of the latest options.
Style #: 29452851; green motif (038); black (001) or purple motif (059)
Note: For sizing reference I am 34-29-38, size 6/M in dresses with a 34D cup. I am 5'8".
When Anthropologie first posted the
Torsade Jersey Dress
($98) on its website, it hid this glorious green motif version and instead focused on the lovely but basic black. They've since decided to feature this baroque floral version which is a smart idea in my mind -- this dress is a gem! A rayon spandex gem, but still a gem.
This dress hits just above the knee, has a twist-front bodice detail, hugs the body so awesomely, and has sleeves that end a little below the elbow. They can easily be pushed up to the elbow to draw attention to the waist which will look spectacular in this dress! I have a feeling this piece is near universally-flattering. The v-neck does plunge pretty low. Another great date option for me (with my guy's enthusiastic stamp of approval I might add) but not something I could wear to work. I tried fussing with the neckline to make it more modest. It would slip back to revealing within a minute. So cami underneath for me for work. Or a cardigan over it.
I typically take a small in Lilka, one size down from my usual medium. That was the case here as well. I'm in a small for these photos. The sleeves are somewhat tight. In a medium however slightly revealing became almost fully exposed! So the small is best.
My SA for the day at Soho noted that this dress seems like a 4-season dress and I agree. It will cheer you up on those grey winter days, fit right in through spring and summer, and be a wistful reminder during fall. For these reasons and the fair price point I bought this dress right away. And immediately wore it on a date. Success!
Style #: 30023279; navy (041)
How fun is the
Split Dots Dress
($198)? Possibly too much fun! This polka-dotted frock is its own inverse, with blue splashed on black for the skirt and black splattered on blue from the waist up. A lace-trimmed sleeve and back add some extra romantic frill. The back, however, is a very deep v that will show your bra for sure. Workable but not ideal. I have to say it doesn't bother me as much here as it does with other Anthropologie items, mostly because this is a party dress. A more casual party dress but still ready to go!
It was love when I put this dress on. The waist is fantastic, cinching in and creating a fantastic feminine shape. The dress hit across the top of my knees and the bodice fit perfectly. I feel like the way the armholes are placed makes my bust look a little low. This is nothing a push-up bra can't fix. How cute would this dress be with crochet tights and sparkly pumps? The material is polyester with a poly lining and it feels very slippery.
Since Hanukkah and Christmas are often spaced far apart as they are this year, it means my friends are kind enough to invite me to their Christmas gatherings after I've invited them to my Hanukkah festivities. I think this dress would be ideal for any of those -- perhaps with silver pumps for Hanukkah and a pop of red for Christmas?
For those who like the shape of this dress but not the dots, CLC has released a petites-only version of this dress in black, the
Bara Petite Dress
($198). I'm going to run a post on the Corey Lynn Calter petites line on Saturday. Stay tuned for that!
The Split Dots Dress is currently wishlisted! I think I need a promotion of some kind to help me into buying this one at full price.
Style #: 28806974; black motif (009)
If you like your beadwork as intricate as possible consider the
Ardennes Dress
($298) by Kachel. This dress is a modernized deco glam party frock -- I love the way Anthropologie styled it with the faux fur collar! A black elastine lining is covered with silk, polyester and a ton of beads in a splashy early century casino-like pattern. It hits mid-thigh and has a simple tank-style top.
I was hoping this dress had some shape because the model shot makes the dress look like it does. Alas, in real life the dress just kinda hung on me. Also annoying is that on the model the widest strip of beading hits right at her waist which makes a nice emphasis. On me that strip is an inch or two lower and instead seems to emphasize my hips. And I think the the teardrop-shaped beadwork around the arms are strange; they draw the eye upward yes but also make hips look wider in comparison.
I'm in my usual size 6 here. The dress was loose in back, hanging off of me. But I doubt a 4 would fit over my hips. The good news is that this dress isn't heavy even with all the beads. I'm sure the frock is fragile however I will say the beads I saw all seemed to be well-attached with at least two strips of thread for each sequin, bead and rhinestone.
It's like but not love for this dress. Perhaps not the ideal fit for my body type. So back to the rack it went.
Style #: 29191517; blue motif (049)
The staff at the 5th Avenue Anthropologie was kind enough to let me know that there were three
Bronzed Brocade Sheath
($168) on the onesies rack. Unfortunately none of the dresses were my size but I found one close enough to shimmy into for a review. Not ideal I know but hopefully this review helps at least a little.
The formula for success with a sheath is a dress that equally hugs and releases in all the right spots.This dress accomplishes that with an exquisite pattern that seems both modern and from another era in simultaneous strokes. Made from polyester (but still dry clean only?) this dress has a cloudy blue base upon which a golden floral brocade lives. The dress has tons of darts and seams to assist with fit. My curves were thankful for that!
I'm in a 4 here, the closest to the size 6 I really need. The 4 was tight throughout. I'd stick with that usual 6 to buy. But I could not pass up a chance to at least try this dress on and see if it held up to the online inspiration. It does! The best part is that this dress doesn't scream 'holiday' to me. I could see wearing it now with a blazer, sweater or cardigan over it and in spring and summer on its own.
This one's headed right to the wishlist. Work and evening-ready. Can't ask for much more than that!
Style #: 29255395; blue motif (049)
I see what Leifsdottir was going for with the
Starlit Stripes Dress
($248). I see early 1900s holiday gathering, pin curls not included. This dress seems like it will be a challenge for anyone not named
Atlantic-Pacific
, who immediately came to mind when I saw this.
My model nemesis is supposedly the same height as me (5'8") but the dress looks much shorter on her than it is in real life. This frock hit me mid-calf. The skirt was a little poufy but I could tell that after settling it down with a shot of steam it would be fine. Always voluminous yes but not always this cupcake-wrapper-like. The bodice is all sequins except for the exposed zipper in the back, which I hate. I'm not always against exposed zippers; it just makes no sense here to me.
I am in my usual size 6 for these photos which fit well. In my mind the key to this dress will be your hair (up) and your shoes (black patent leather, silver, or perhaps a sparkly pink). It's very fun to have a dress that plays with proportions this much! I think most people will be uncomfortable in it though. For those forward fashionistas that like to push the envelope a bit, this might be the holiday dress for you.
For me however it is a pass. Back to the rack it went.
Style #: 29259512; sapphire (043) or black (001)
Friggin adorable. That's how I felt in the
Empress Dress
($158), a surprising win that's sadly a touch maternity from the side. (Or happily I suppose if you're pregnant!) This dress is an intense cobalt blue that read purple to me under the lights of Chelsea Market's Anthropologie. I love the curves waistline and the cross dart on the chest. Some gentle pleats where the skirt and bodice meet make this dress a gentle fit-and-flare. There's a back zipper on this cotton-poly dress.
Fitwise I was smack between sizes. My usual size 6 was roomy through the chest and belly. It's what you see on me above. A 4 however was ridiculously tight in the sleeves. So I'd stick with this 6 which isn't bad by any means but shifted a little on me with every stride from being loose. It's so cute from the front that I don't even mind the maternity side view. That could come in handy sometime.
Wishlisted and wanted. Damn Anthropologie. Too many good dresses right now! Have you tried on or purchased any of these frocks?