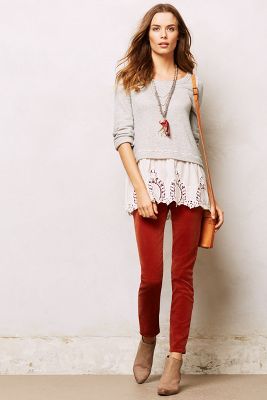 I unintentionally recreated this outfit in my review.
After about a month away from Anthropologie's stores due to my move, this week my goal is to hit every NYC Anthropologie and grab a ton of reviews! Thanks for bearing with me as I transition to my new apartment! This set has a mix of old, new and sale Anthropologie tops.
Style #: 27533165; sky (045)
Note: For sizing reference I am 34-29-38, size 6/M in tops with a 34D cup. I am 5'8".
Although I have a sizable costume jewelry collection I don't like to wear a lot of jewelry, particularly when the weather is hot and the plated stuff makes my skin break out. So I'm really enjoying this beaded collar trend which allows me to adorn myself no matter what the weather without my pale, sensitive skin becoming red and irritated.
I knew the
Sunglint Chambray Tank
(now $30) would hit sale so I waited to try it. And waited. And waited, a lot longer than I thought it would take! I was happy to find it in the Chelsea Market Anthropologie's sale room. The polyester chambray material is so thin. Pretty much see-through under bright lights. At this point I think Anthropologie is secretly waging some campaign to make sure everyone sees our bras. Sorry. While I wish the material were opaque the thinness makes it a great layering option. The collar will look so cute with a sweater on chillier days! By itself the top looks nice, with sleeveless arms that hit on the right spot along my shoulders, a crewneck that's close but not strangling and a straight fit that could use some shape. There's a keyhole button at the neckline to help you get in and out of the top and a useless side zipper that was totally unnecessary. There are no darts or really anything at the waist to lend even a hint of feminine shape. Boo.
To get a better fit, I sized down from my usual size medium to a small in this top. While still shapeless overall at least the small was more body-skimming and therefore flattering. I wish this top had something at the waist to help out with silhouette. Alas, it's cut very straight. The small was hugging my hips but not too tightly. The top hit across the lowest point of my hips.
This cute piece will look great tucked in or loose (especially over legging pants or crops I'm thinking). I picked it up at first cut and now on second cut it's a steal. Just remember to wear a nude bra underneath -- unlike me. Purchased!
Style #: 28517241; white (010) or 5 other colors
Another top that wages war against opacity is the
Ruched Sweetheart Tee
(now $30). Like the Sunglint Chambray Tank above it's sheer in parts, the bottom half and sides specifically. The bustline has a pleated ruching effect and the waistline has a perpendicular ruching variation. A beautiful peasant neckline with slightly cropped sleeves make this top look lovely on the hanger. It's made from cotton which is delightful! But why, oh why, is it so sheer?
I tried on my usual size medium which fit great. Cinched in at the waist, pleasant at the neck and perfect across the hips. I feel like this would be an excellent weekend top. It's just that even $30 seems like too much for a top that isn't solidly made. The heathered cotton is such a strange choice! Apparently some of the other colors are not as sheer but from the hand test (meaning I put my hand on the underside of the shirt) every color showed my skin through to some degree.
The white is a definite pass but on second cut the copper color would be a great fall top. Anthropologie, enough with the sheerness! Seriously. Stop. Please.
Style #: 29180627; green (030)
It's cool to see so much Sachin + Babi at Anthropologie; I love this brand! The
Carcanet Blouse
($148) fits right in with the Anthro aesthetic. A pretty beaded neckline lives on top of semi-sheer (sigh) strips of aqua fabric. Some of the strips have a slight glint to them. The front bodice is double-layered so it's pretty much opaque, but the back and sleeves are not double lined. I found the material a little itchy which is very unusual for me; I'm itch-tolerant mostly.
I expected the top to feel heavy due to all the beadwork but it's not. In fact it's pleasantly light on. I tried my usual size 6 which was loose. I don't think I'd size down to a 4 though because the sleeves on the 6 were perfect. The
back of this top
features tons of pleats which look cool as you're walking away but leave the front somewhat shapeless.
Here's how the back looked on me:
Aqua and teal are both my colors so I'm very drawn to this top. I like the idea of tucking it in as Anthropologie has offered on its website. Still, the itch factor and the price will keep me from splurging on this at full price. I've already got $1,300 worth of stuff sitting in my Anthro cart for Fall. This one can wait for sale.
Want to see how this top looks layered? I wore it under a couple of the blazers in
this recent reviews set
.
Style #: 27031699; blue (040), blue motif (049) or white (010)
Without the help of
this sweet, sweet catalogue shot
I never would have noticed the
Wiley Tunic
($78). Also not helping? The wrinkles on the top I tried on in-store. I have noticed Anthropologie store employees steaming their pieces more actively recently so I'm not sure if I just grabbed this before they'd gotten to steaming these or what. Wrinkles are annoying because it makes it much harder to determine the correct fit. I also can't tell if the placket always wants to sit away from the buttons or if it's just an artifact of the wrinkling.
This blouse is cotton with a button front and a peplum all the way around the bottom. Cotton chambray peplum! Anyone get trend bingo? No? Well how about if I tell you that this blue version (not to be confused with the oxford striped blue motif version) has polka dots?!? I kid because I love. In truth all these design aspects work very nicely together. There are even tab sleeves which just so happens to be one of my favorite features on a long-sleeve top. The material is very thin. Not sheer, but thin. I'd worry about developing holes quickly.
I found this top to run large. So instead of my usual medium you see me in a small for these photos above. The small was fairly loose too, but the sleeves were perfect so I wouldn't go down any further. I know that's the opposite of what the online product reviews say! I can't explain it except to wonder if they tried on a different color variation? One reviewer also mentioned a chemical smell which I did not notice. There was plenty of room across the hip and thighs in the small for me (and usually my hips are what cause me to size up when needed).
This blouse is cute. But it's thin. If you're willing to chance the quality then this is a beautiful top with versatile styling options. For me, waiting for sale.
The pants I'm wearing here are the
Pilcro Stet Slim Ankle Needlepoint Jeans
($148) which I reviewed
here
.
Style #: 29378833; grey (004)
I like shopping at Anthropologie to find basics with a twist. Right now they have several sweater/sweatshirts with some kind of layering detail that pretty much all have me in a happy tizzy. The first one I found in-store is the
Lace Skirt Sweatshirt
($78). And, hey, the website model and I have the same outfit on! Coincidence? Actually I think the
AG Stevie Cords
($168, review upcoming) were displayed nearby. The cords run TTS for reference -- I'm in a 29 here which is my pant size at the moment.
Back to the sweatshirt. It's nothing special up top. Bracelet sleeves. Deep crewneck. A loose, medium-weight cotton cropped sweatshirt with piping around the neckline, wrists and bottom hem. But then what's this? Why it's a medallion lace table runner peeking out from the sweatshirt! And in back,
there's a cute bow
! It's all cuter than it has any right to be.
Of course the online model shot is kind of tricky, what with her arm placed over her waist so you don't see how wide that cropped bottom hem can look. I'm in the small for these photos above and I'm not a fan of the way the hem spreads over my hips. It's at just the wrong spot on me. The lace below is cute but I wish the whole top were longer. It looks a little short on me; I want the sweatshirt to end at my natural waist and the lace to end below my hips. The lace portion looks much longer on the website than it is in real life.
I don't hate this top but I don't love it either. Another one wishlisted for reconsideration at sale time -- perhaps I'll have better luck with some of the other layered sweaters Anthro has right now!
Have you tried on any of these items? What were your thoughts? Do you own any of these pieces? If so, how are you styling them? If you have a review request let me know in the comments! I'll be hitting Rockefeller Center today, Soho tomorrow and the Upper East Side Anthropologie this weekend.