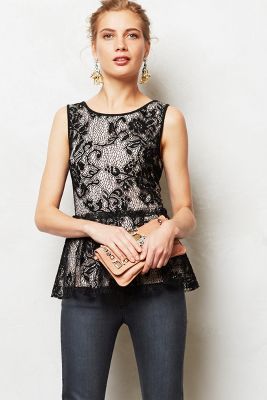 I find myself in need of v-necks and waist-defining tops. Anthropologie's out to deliver. Let's zoom in some tops from their current assortment for the review treatment.
Style #: 29239324; lilac (055) or 6 other colors
Note: For sizing reference I am 34-29-38, size 6/M in tops and sweaters with a 34D cup. I am 5'8".
It's weird to start a review with a caveat but here we are. The
Crisscross Jersey Top
($48) can be either fabulous or terrible depending on your shape and which size you try. I was confounded enough after my first try-on to seek this top out for a second go-round, and the results were very different. Actually, this all started as a case of mistaken identity. I love the look of the
Kumihimo Top
($48) and was hoping that "online only" was code for "except it's also available in the NYC Anthropologies." Turns out I tried on a similar cousin, the Crisscross Jersey Top.
This top is cotton jersey. COTTON. JERSEY. Let's take a moment to have a small mind parade in celebration of that because I thought cotton jersey was dead. Thanks for resurrecting it, Anthropologie! The news isn't all good though. In certain colorways this top is pretty sheer...like the ivory for instance. I tried on the lilac. The top has a deep v-neck, wonderfully date appropriate but perhaps sadly not
day
appropriate depending on your workplace and cup size.
It's the crisscross across the waist that's really the challenge here. If you're an hourglass like me or a pear, this will do wonders for your silhouette. The sleeves are the perfect length to further accentuate that tiny waist! But if you're shaped straight, or an apple, the waist crisscross will instead magnify either lack of cinch or any tummy. Something to consider.
I found this top to run large. I'm in a small for the photos above. This was my second time trying the top on, because as you'll see below the green in a size medium was hilariously dowdy on me. In addition to the front crisscross the back has a pleat at the waist which helps to define a super curvy feminine shape. Ahhhhh, thanks Anthropologie!
In this review I'm wearing the AG Stilt Jeans in
7 Years Dwight
(c/o AG Jeans) and old Vince Camuto boots, FYI.
Here's how the green in a medium looked on me.
Hahahahaha. The staff at the 5th Avenue Anthropologie was raving about this top and for the life of me I could not figure out why. I'm glad I was persuaded to size down and try the top on again. If you weren't convinced your first time trying this top on I recommend you do the same.
The lightest colored ivory version and the lilac above are somewhat sheer; the other colors seem solid enough. I'm sure this will be a lovely winter date top. I plan on picking this top up very soon.
Style #: 28621472; blue (040) or 5 other colors
Deletta has a few variations on the v-neck in stores right now. This is the
Smocked Sabine V-Neck
($48) which has a tuxedo of cinches and pleats with a couple of small ruffles thrown in for good effect. It's like monochromatic ric rac. (Oh, Ric Rac. I love you! Come back to us.) It's cotton -- cue the band again!! -- and is fairly lightweight. Ideal under a cardigan on cold days. There's another deep v-neck though it's not quite as deep as the top I just reviewed. Again the sleeves come to the elbow which make the perfect waist-defining accent.
I found myself between sizes in this top. I'm in a medium for these photos. The length is slightly longer, hitting low hip. Love that! It was loose across my tummy and also the v-neck was a bit too big, pulling away from my body. But the small I tried on was really short, making me look like a pre-teen who'd just grown out of that top size. This makes me think the medium is the way to go, especially since I'm not sure if this top is preshrunk cotton or not. I'm guessing not.
It's worth noting that on some colors of this top the stitching on the tuxedo bib blends right in, as on this blue version. But on other versions, i.e. the white, the stitching is a different color and stands out more. I'm not a fan of that look but on smaller chests I think it would be very flattering and eye-catching.
I'm likely picking up this top too as a weekend piece. For now, wishlisted!
Style #: 2957263; grey (004) or black (001)
I can't win with Anthropologie's peplum tops it seems. When the peplum sits at my waist like I want it too, the peplum hovers above my hips in an unflattering way. When the peplum skirts my hips in a flattering way as with the
Beatrice Peplum Top
($68), the waist is in the wrong spot. Sizing might be an issue here too -- I went a size too big without realizing it.
I'm getting ahead of myself though. The Beatrice Peplum Top comes in either this minty-looking grey color or the black on ivory shown at the top of the post. It's made from polyester with spandex and it feels a little slippery on. There's a pretty scoopneckline and a small bow in back. The straps on this sleeveless top are nice and thick, the top itself feels lightweight.
I reached for my usual size medium and it was very loose on. Perhaps I'd be happier overall with this top in a size small; based on my experience you should size down for sure. Peplums are tricky for short-waisted people like me but when you find the peplum top that works all the hunting is entirely worth it!! I'm not sure what drew me to this grey version but I think I'll give the black one a try next time.
Not convinced yet but I may go back for a second helping and a different size. For now, back to the rack.
Style #: 29301686; blue motif (049)
Pictures don't really do the
Wonderland Silk Tunic
($118) justice. In real life the pattern on this top is vibrant and beautiful. Though floral this top has a definite late-Fall or winter feel to it, perhaps due to the mushrooms spliced into the pattern? It's gorgeous. This top is slightly longer in back and oddly sheer in some places. Don't wear a light-colored bra with this.
Online this top looks like the waist is cinched. Not at all in real life, though there is a seam there. The waist hit very low on me in my usual size 6. In fact the top was pretty huge all over. Size down for sure. I like the idea of this top under a blazer or a long, skimming cardigan that's about the same length as this top.
A little big but beautiful for sure. Wishlisted!
Style #: 27209907; grey (004), white (010) or green (030)
I love the idea of every Cloth & Stone chambray top. But when I put them on I'm never wowed. The last top I tried on is the
Bisected Studio Buttondown
($88) and it helped me figure out why it's never love. This top has many attributes I like, the softness especially! Also fun are the tab sleeves and the hidden placket. Double breast pockets are workable but unnecessary for me.
Here's the thing. Cloth & Stone tops are always so boxy! I recently tried on a Bella Dahl chambray top --
this one
specifically -- and it was so flattering! Why was that chambray top flattering while the Cloth & Stone one wasn't? The key is the back. In the back of the Bella Dahl top there's an inverted pleat which helps to cinch in the top slightly at the waist, thus creating the visual effect of curves. But the Cloth & Stone top has a straight pleat and a split hem. No shape definition. Box. That leaves it up to me to create the waist, and well, unless I tuck it into something that's not happening. Thus the disappointment.
I'm in a small for the photos above. That's one size down from my usual medium and still felt a little big, but the sleeves are usually too tight in an x-small to tab.
This top is soft beyond belief. It's also boxy beyond belief. Meh. Back to the rack.
Style #: 29541208; black & white (018) or 5 other colors
Kissing hedgehogs? Adorable. That's how I'd sum up the
Creature Feature Top
($48), which has a bevy of cute quirky patterns on a cotton tee with a button-back. The pattern placement varies from top to top, hence the odd decapitated hedgie on the pocket of mine. (Sorry, hedgie.) It's somewhat sheer which is disappointing but the friendly pattern has won me over. Elbow-length sleeves frame the waist perfectly while a scoopneck comes just low enough to show off the collarbones nicely.
I went down to a small from my usual medium in this top. The small skimmed my body pleasantly. Aside from the annoyance of having to layer a cami underneath this top, it's too cool. I would wear it under a cardigan or blazer, or on its own. Here I have it paired with the
Vegan Leather Mini
($88,
review
).
If the sheerness won't annoy you too much I think this top is worth full price. Cute, cuddly and versatile. Just what Anthropologie should always be known as!