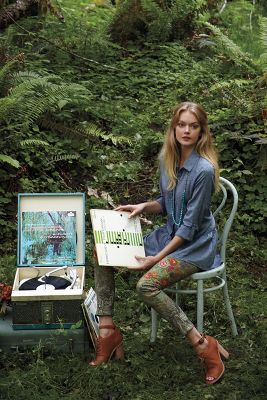 A little variety on this afternoon's reviews set. Pants, blazers and sweaters.
By now you've hopefully read
this morning's Anthropologie sweaters reviews set
. Inside, a couple more sweaters, plus two blazers and a pair of cool pants.
Style #: 28947117; ivory (011) or blue (040)
Note: For sizing reference I am 34-29-38, size 6/M in tops and a 30 in pants with a 34D cup. I am 5'8".
Looking for the visual weight of tweed in a print that's a little more fun? Give the
Tamsin Blazer
($138) a try. From a distance this blazer looks like plain ol' blazer boring tweed. Up close however I was delighted to see that the pattern is actually little tulips. I prefer this ivory version which has little threads of red, orange, brown and yellow strewn about. The blazer is cropped with a body that ends right at the hips and sleeves that go just a drop below that. The collar is smaller and really helps draw the eye inward, accenting curves nicely or creating a waist if that's what you need.
This blazer is alpha-sized. A medium felt comfortable on and could be buttoned easily. I'm not a fan of the cropped look. I feel like it visually chops me up. But there's no denying that with the right top underneath a cropped blazer will make you look long and lean. Or over the right dress. Still, these days I like a blazer that hits across the low hip. It probably goes without saying but this blazer is dry clean only.
If Anthropologie really wants to tempt me with something cropped I'd love to see a reissue of the
Schoolboy Blazer
by Sine. Now
that
was the perfect combination of tweed and polka dots in a cropped silhouette. As for the Tamsin Blazer, it is wishlisted for reconsideration come sale time.
The top underneath is the
Carcanet Blouse
($140) which will get a full review next week. It runs large.
Style #: 29092285; dark grey (005), neutral (014) or green (030)
Speaking of blazers that are hip-length with polka dot cuffs, this is the
Dotside Blazer
($98) by Cartonnier. A thin lapel and longer length give this blazer a more modern look. Anthropologie then added a few playful details like the tonal elbow patch, lower-set button and the inside polka-dot pattern which can easily be hidden by leaving the sleeves uncuffed.
This polyester-rayon mix is soft but rough to the touch if that makes any sense. There are little rough spots all over the place interrupting an otherwise smooth outer shell. The inside feels great thanks to that silk-like polka dot polyester lining. I found my usual size medium to fit awesomely with just the right amount of nip-in at the waist and room through the shoulders and hips.
I'm not in the market for a new blazer right now but if I were this would be the one. I would be very tempted on sale, and have wishlisted this piece while I mull it over.
Style #: 28823045; grey motif (008) or blue motif (049)
The knit sweater jacket is an Anthropologie staple. There have been thicker and shorter versions in the past while this year's
Cozy Knit Jacket
($138) is a nice, long length but a lighter weight knit. Two curved seams on the front and back lend a beautiful silhouette to something that would otherwise be a boxy shape. The cotton-linen material is soft and somewhat warm.
This jacket says weekend to me, though I suppose with some clever styling it could work for work. I love the length of the front lapel and the sleeves which are just a drop long. I felt good in my usual size medium. The sleeves are loose enough that you could wear something else long-sleeved underneath. However I would probably stick to sleeveless or short-sleeve items myself.
Here's how the jacket looks closed:
The herringbone becomes a little less appealing to me here. But overall this jacket is comfortable, versatile and fun. Maybe overpriced. For now, wishlisted.
Style #: 29241254; dark orange (081), cream (012), dark green (037)
Lacy ruffles peek out from the bottom of the
Diamond Stitch Pullover
($118), a sweater that is cute but runs huge. This thick need seems prime to shed thread constantly.
The back
has buttons all the way down that look very cool. The acrylic nylon material gets a major boo from me. This is one of those sweaters that looks pretty but feels very cheap.
Further complicating matters, the sweater runs very big. I am in an extra small here and that was still pretty big on me! I have feeling that true size smalls may feel sized out and true size x-smalls are definitely sized out. Tis a shame since this sweater looks nice on. It hits across the low hip with sleeves that come down over the hand, just below the wrists. It's a little boxy but nothing a sleek bottom shape can't help.
I like the way this sweater looks but there's no way I'd buy it at full price. Wishlisted but waiting for sale.
Style #: 28761187; olive (095)
I know the
Pilcro Stet Slim Ankle Needlepoint Jeans
($148) are called ankle jeans right in the name, but man is this length annoying to me! I'm immediately making it known that I wish these came in a tall. These jeans are not what I was expecting at all from the catalogue shot at the top of this post but they are still quite cool.
What I was expecting: corduroys with embossed needlpoint pattern.
What they are: regular ol' jeans with a screen print needlepoint pattern.
The olive base color is kind of military drab. The rear pockets are a fantastic size and these jeans come up to just about the natural waist. On me they hit above the ankle, which makes it look like I grew out of the pants. So annoying. The print doesn't match up on the seams and that's OK, but it does vary from pant to pant so you may want to choose a pair with a flattering pattern placement.
I find Pilcros stretch so much over the course of the day that I size down in them. These pants are 97% cotton so they'll presumably stretch a little less. Instead of my usual size 30 I'm in a 29 here. They are tight here but won't stay that way for long if I buy them. The waist runs a little smaller than previous Pilcros I've tried. Otherwise this matches up well to the Stet fit with body-skimming through the thighs, somewhat fluid fit around the knee and a little give through the calves.
I love the idea of these pants and the execution is OK. I'm just not sure I can get past the short length. Wishlisted to mull it over.
What do you think of the items I've tried on here?