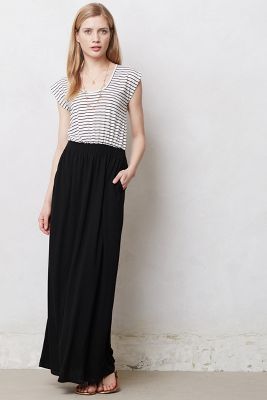 Lilka's got a beautiful bevy of dresses at Anthropologie.
I've been consistently impressed by Lilka's offerings at Anthropologie as of late, so much so that I managed to cobble together an entire reviews set with their stuff! Inside, a few dresses that are online and a few that are not. All of them are lovely.
Style #: 29042678; black motif (009)
I used to hate maxi dresses but in the past couple of years I've come to embrace their versatility. They're great in the summer when I want to wear a dress to work but maybe don't feel like exposing my legs that day, or great at the beach on days when the sun is super intense. With 4 or 5 already in my closet I don't need any more yet I'll admit I'm highly tempted by the
Construct Maxi Dress
($88). The sub-$100 price point is a good start. Maybe they could have afforded opaque material for a little more though? (Sorry about the visible bra here.)
This maxi is a simple polyester tee on top with a cotton-rayon skirt. An elasticized waist helps define shape and I like the deeper scoopneck on this dress. There are pockets which do add some bulk to the skirt and cap sleeves which are just a little short. The dress itself is nice and long, spilling almost to the floor even with my 5'8" frame. I would have to wear flats with this dress but it is long enough.
The sizing was limited in Soho so I grabbed a small. I think it's too small, so I'd stick to my usual size medium to buy. Even with the sleeves a bit too tight and a skirt poufing out over my hips I could see the potential in this dress which manages to have an arty vibe even though it's very simple. It's lightweight, easy to wear, but sadly sheer on top. My pink skintone shows through!
An easy to wear maxi that may require a layer underneath the sheer top. Good enough to wishlist but waiting for sale.
SKU #28345445 for size small; black (001)
Here's another cute dress by Lilka for under $100, called the
Esme Spacedye Dress
($88). I swear this dress was online at one point but I can't seem to find it now. I'll update this post once it re-appears. This unlined chemise has a rough polyester material with a lace top. Darts running down the dress lend a flattering fit, but without a lining I found it itchy against my body. Still I had plans in my head of wearing this as a summer work dress.
I found this dress to run large. Instead of my usual medium I'm in a small for the photos above. The fit is terrific! Hugs and releases in all the right parts. I just wish it was longer! The dress hits a few inches above my knees, nearly even with my fingertips. That makes it too short for me to wear to work and limits its closet versatility. Perhaps on someone with shorter legs or not as tall as me will fare better -- I'm 5'8". Once the weather cools down and I could wear this with tights and high boots the length would be less obvious. For now though no go for me.
Still, even being too short there is a lot to like. The lace top is very pretty and the simple yet flattering shape is lovely! I see lots of potential here -- perhaps not for summer on me though. This dress will be wishlisted for reconsideration come sale time once it appears online. If it appears online.
Style #: 27859826; ivory (011), green (030) or red (060)
The
Sapelo Maxi Dress
(now $50) never made it to my local Anthropologies but thanks to an online return I was able to try it for myself. This dress is basically a knee-length dress with a sheer outer gauze shell placed over it. The top is a simple bandeau with spaghetti straps attached. The straps are adjustable and that's great! The dress hit a few inches above the floor on me, grazing my ankles.
In my opinion this dress runs small. I'm in a large in these photos and that just barely fit over my chest. I can't even imagine what my usual medium would have looked like! It's a shame this dress was online-only as I'm sure many people ordered their normal size only to be disappointed with the fit. Maybe that's why this dress hit sale kind of quickly. The skirt is also more sheer than it looks online. I'm glad the underlayer is knee-length and not mini. It makes the overall effect more ethereal than overtly trendy.
This is a pretty dress although it's not for me. Maybe if I were on my way back to Hawaii as I dream every night...until then, back to the rack.
SKU #28628568 for size small; black motif (009)
This Lilka dress is the
Arcata Maxi Dress
. This dress is great! With a polka-dot top, a striated hi-low skirt and an easy summery feel this dress wasn't going to let me pass it by. I really tried to just walk by it -- I don't need any more maxis! -- but it reeled me in. The polka dots are adorable and I love how the top has a crop feel with it's longer sides and shorter front.
Admittedly, this is one of those dresses that an ex of mine would call the irresistible ugly. I'm drawn to it and yet I also recognize that it's not the prettiest dress. What I do like about it is that it's super comfy on (rayon top, silk-like polyester skirt) and that the skirt flows beautifully as you walk. So if I could be in perpetual motion and captured from the side this dress would be beautiful all the time. Just looking at it from the front though it's kind of a weird length and the skirt looks heavy. Oh well.
This dress runs large. A small fit me best and I almost tried an extra small too but ultimately decided that a little extra room isn't a bad thing. I purchased this dress immediately but am still thinking it over. It will look cute in the fall with a denim jacket over it. But it may end up going back.
Style #: 28289445; blue (040)
It's hard not to love a $78 dress that flatters curves the way the
Empress Dress
($78) does! This surprising winner has a cool mirror image pattern and an open floral panel near the neckline, which is not too revealing unless you bend over. This rayon dress feels like silk and holy crap the pattern matches up everywhere!! It's an Anthro miracle!!! It has a gently elasticized waistband and side pockets. There is no zipper. This one goes on over your head.
This dress runs a bit big, so I went down from my usual size medium to a small for these shots. My only complaint about this dress is that it's short, hitting me a couple of inches above the knee. Otherwise this dress is inexpensive perfection. I have slightly lower standards for an Anthro dress at this price point and this Lilka frock delivers on everything I'd want. I didn't take it home yet but I plan to soon! I love how Anthropologie styled it with a thin leather belt. I'd do the same. If you like the shape of this dress but aren't so sure about the vivid pattern, there's another version called the
Tattersall Dress
($78) which features the same floral lattice but an entirely different dress pattern.
In case you missed it I ran
another Anthropologie dress reviews set
earlier today! What do you think of these Lilka frocks?