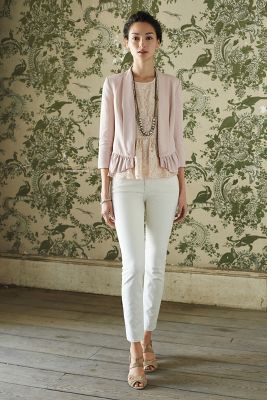 Anthropologie keeps churning out peplum tops and I keep trying them on.
From bottoms earlier this week we now turn to tops in this Anthropologie reviews set!
Style #: 28565430; wine (061) or black & white (018)
Much like the lone online reviewer as of this writing, I'm a total sucker for these Tiny blouses. Although there are sleeves this is clearly a summerweight piece and damn does it look good with a tan! The beautiful pattern is done in a complementary tonal color that makes this top easy to dress up (over a maxi dress perhaps?) or dress down (I could pretty much wear this look right out of the store if I wanted too, after paying of course).
Made from silk, cotton and viscose the blouse is surprisingly not sheer in front, though there are sheer strips near the shoulders and the heathered back can be a little see-through depending on the light. The sleeves are rolled and tabbed above the elbow while the hem falls to midhip. Simple buttons don't compete with the design in any way.
I felt great in my usual size medium. I would have purchased this top right away but the top I tried had a weird stain on it and it was the last medium in-store. Although I want to wait for sale so I have more spending budget available for other things, something tells me this top will be coming home with me at full price soon.
A beautiful top that I don't mind buying time after time. Sitting in my cart as we speak.
Style #: 28655942; nude (013) or silver (007)
At first I thought the
Katrine Peplum Top
($88,
reviewed
) was getting re-released for pre-fall. But now I see that though similar there are a few differences between that and this
Blushed Solstice Shell
($88). The lace used is different for one thing. Where there was chantilly lace we now have a floral vine trailing up the nude version and a thicker floral lace all over the metallic silver version. I found the nude much more appealing in person. Like its predecessor the Blushed Solstice Shell has a high-placed peplum and a zipper back v-neck, while the front has a scoopneck.
Oh how I want to love this top. It looks OK but not awesome. The peplum sits at my waist most of the time but I'm short-waisted so this will be short on most people. From the side it looks sorta sacklike. And I feel that the top is too broad across my shoulders. I am in my usual size medium here which fit nicely. I did try on a large for reference. It was no longer, but was wider in a way that didn't work on me.
This top appeals to me because it's frilly and romantic without being overly so. I want to make it work but I feel that like the Katrine I'll end up waiting for sale. Let's just hope I don't end up missing out on this one like I did with the chartreuse Katrine. For now, wishlisted!
Style #: 27724947; light grey (006) or black (001)
Most of the time I feel like my bust is proportional to the size of my hips. Occasionally when I try on tops like the
Diamond Lace Peplum Shirt
($68) my confidence in that is thrown into question. The top is, um, form-fitting. And that can be an excellent thing! But it also can emphasize parts that you may want to camouflage a bit. You know, without literally wearing camo.
I chose to try on the light grey version of this nylon, rayon, spandex top. (Blech on the material.) I'm in my usual size medium, which was the best fit but feels uncomfortably bodycon to me. One odd thing to note -- from the front, the area where the criss-cross back attaches to the hips causes a weird outward bump. It looks like my hips are busting out but it's just the top. You can see the same effect on the model in the light grey shot.
The
back
of the top is very open due to the criss-cross but does not reveal a bra which I appreciate. This top sure is pretty. I think the design is cool. But I don't think I'm comfortable in the top and for that reason it is a pass for me.
Style #: 27970672; ivory (011) or navy (041)
As soon as I saw that my sworn enemy fit model (note: not actually my sworn enemy) was wearing the
Emilia Peplum Top
($68), all of the fit issues I experienced with it were explained. Anything that looks good on that model is a challenge for me and this top seemed no exception. I think that if your shape is more straight this top is going to look great on you. However if you have a larger bust or hips or are an hourglass like me it may be more of a challenge.
The top is cotton lace with a rayon lining underneath. The yellow is much sunnier and more vivid in real life though it may be hard to tell from the cave-like 5th Ave Anthropologie (NYC) fitting rooms. The shoulder straps are nice and thick, the peplum sits lower than the waist. I started off in a medium (not shown) and was swimming in it. The small was much better overall. The security sensor was placed in a bad spot, causing the peplum to flare off my hip on one side. Oh well. The top hits low hip and the scoopneck is the perfect size. It is pretty lightweight.
Do I think this top is cute? Sure. But while I can't say exactly why, something about this top is very Forever 21. And I don't think it makes sense to pay $70 for something that looks like Forever 21. I'll regrettably repeat this complaint in a few upcoming review sets. Wishlisted, but waiting for sale.
Style #: 28288314; blue motif (049) or red motif (069)
I was pretty excited when the
Striped Persephone Tank
($88) first appeared on the scene. Last year Joie had a similar tank but it was something like $228. While I loved that Joie top I couldn't bring myself to spend so much on a trendy tank. I suppose $88 is still a lot but it seems affordable by comparison. I was apprehensive though when I found this top in-store. The top is really thin. In a way that's great -- in the summer who wants to wear thick clothing? And this is the one time I'll defend polyester because this is a top I want to wear, throw in the wash and then wear it again the next day. (The care instructions say dry clean but you can wash this on the gentle cycle or handwashit with Woolite. Don't wash anything else with it!)
Upon putting this blue motif version on I noticed it's sheer in both front and back. Not entirely sheer, but enough to show through basically any color except blue in the back and basically any color except white in the front. You can see how this is an issue. The scoopneck is more of a u-shaped oval than a true scoop, which has the cool effect of elongating and slimming. I wouldn't want this on every top but it works nicely here. The tank has just a little a-line shape to it which is perfect for fitting over my hips. The top ends just below the hip. I sized down in this from my usual medium to a small.
This top is cute but not $88 cute. At $58 I'd snap it up. Instead, I wait for sale.
What do you think of the tops in this reviews set? What tops should I review next? If you own any of these pieces how are you styling them?