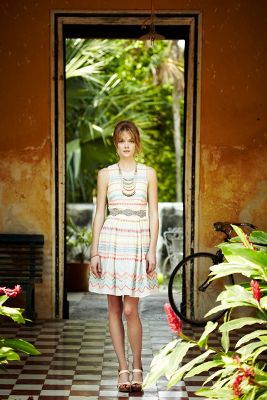 The very definition of cute sundress? In this set, reviews of the Sunglow Dress ($268) and more.
Anthropologie dress season is in full swing and I'm doing my best to try on and review as many as I can! Six more get the review treatment in this post.
Style #: 27563808; dark grey (005), blue (040) or purple (050)
Note: If you're wondering my sizing measurements/height/etc, they're detailed on this page.
At first when such a new dress goes on sale it's like
yay!!!!
But then it's like...why? As soon as I put on the
Minerve Swing Dress
(now $80) the reasons for the super-fast markdown became clear. I am disappointed for several reasons. This looked like it would be a wonderful work option, something Anthropologie is sorely lacking at the moment, and the dark grey color I tried seemed like a multi-season dress.
The material of this dress is cotton, spandex and polyester. It's thick but breathes. This makes it quite stretchy and I was able to easily size down to a small. Sadly the skirt of this dress is such a mess. It wants to be boxy oh so badly. As in it literally wants to be a rectangle sitting off the body. No amount of preening or pressing or smoothing would make the skirt part of the dress sit the way a skirt is supposed to. This dress is throwing a temper tantrum and I'm so not into it. The bodice is alright...I'm not into the darts down the middle of the bust which look a little superhero-off-duty to me.
Anthropologie's model shots of this dress are like false advertising. I'd like the dress in those photos please! I see one online review where the dress's skirt looks more like I'd expect. Lucky lady! This dress is a big honkin' pass for me.
Style #: 27664390; coral (085)
Sachin + Babi is a brand known for pattern and color mixing. I love the pink-on-pink combination of the 'online-only'
Coral Wave Shift
($168) which had a full size run available at the 5th Ave Anthropologie in NYC. This dress has a blouson top, a defined waistband and a faux-wrap skirt that really hugs. It sounds like a lot but it's an appealingly simple and chic dress. Work-ready? Mostly.
Made from polyester, this dress is unlined. The material is opaque enough that sheerness isn't an issue. The skirt however wants to stick to the body and that includes any undergarments. This is less of an issue up top where a looser fit prevails. For me, this meant my usual size 6 felt uncomfortably close-fitting in the skirt. A slip is required in my mind and for comfort reasons I'd likely go up to an 8 in this dress. The dress hit about two inches above my knee in the 6; I think the 8 would be a little longer.
On the positive side I love the colorblocking with its little geometric slant. It's flattering to a variety of shapes and sizes. Always a bonus! Based on that I've added this dress to my wishlist in an 8. If you're less curvy on the bottom than me your true size may work fine. It's hard to give an unlined dress that sits this close more than 3 stars though I do like it.
Style #: 27767029; orange (089)
The
Reva Elephant Tunic
($158) has been declared a top and lives in the blouses section of Anthropologie's website but it's a dress to me. A lovely one at that! A deep split neck is tuxedo bibbed by paisley and parading elephants while contrasting and perpendicular pachyderms march across the skirt. The dress hits a few inches above my knees at about my fingertips. There is a petite version available as well.
Since this is a top there's no lining. The silk material is so thin it feels like paper. It's not sheer but I felt a little naked in it. I tried on a small, one size down from normal. That worked well and kept the top from being too open on me. In fact I kinda wanted to march out of the store in this dress! I suppose the beautiful silk prints justify the price point but seeing a top priced at $160 made me pause.
In the end my budget won out. Wishlisted but likely waiting for sale.
Style #: 27740331; ivory (011)
The
Cilla Tweed Shift
($278) is a case study on how online only items should work. Here's what happens: dress appears on website. I fall in love. I don't want to buy the dress because it's pricey. But then I wonder how it will fit. So I order the dress for fitting purposes only, fully planning to return it to wait for sale. Then it arrives. It fits so well! Crap. I want to keep it. Especially since it's nearly sold out.
This tweed frock is slightly short for conservative offices, hitting me three inches above the knee, but it otherwise a fantastic summer work option. After a test-drive around my apartment I'm sure I'd feel right at home walking along Wall St with all the traders and the smokers and the tourists and the wannabes to grab some lunch one sunny afternoon. You'll need a racerback bra with this dress because it has a y-back and slight cut-ins in the front. It is very much a shift with a straight shape. For me this left extra space around my waist which was only noticeable after sitting, when the linen aspect reared its ugly head. I bought this dress in my usual size 6.
I found the dress coarse but not itchy. There is a lining. No pockets. You don't need them. With such a classic shape and a pleasant color I am likely to keep this dress. I'm not sure it's worth $280 but it will be a closet staple for a long time.
Style #: 27432038; red motif (068)
Oh,
Mangala Pencil Dress
($278), how I wanted to love you. I was delighted to find this dress on the racks of the Rockefeller Center Anthropologie. It seemed to be selling well with only a 6 and two 10s left to try on. I grabbed the 6 and headed downstairs to the fitting rooms.
Alas, the fit off this dress is terribly off. The bust area is comically roomy and the hips poufed off my sides, adding an extra va to my already va-va-voom shape. This isn't the kind of fit issue that sizing down to a 4 would help; it's a construction issue with the dress. Another thing I hadn't noticed until I saw the dress in real life is the way the beautiful medallion centerpiece is obscured by two side panels, which cover two of the petals on the medallion. It's an odd design choice. I do love the color of this dress and the bold print. I also love the length and square neckline. With a silk outer shell and a poly lining this dress seems so promising. Yet it doesn't work on me.
Beautiful to behold, unwearable in person. Boo. And back to the rack.
Style #: 27610658; neutral motif (015)
Just take my money now Tracy Reese! The
Sunglow Stripes Dress
($268) is lovely, so very lovely. It's pure cotton with a cotton lining and tons of little trims and ribbons and ric rac all over the place. The fitting room lighting caused my iPhone to really pick up a slight ivory trim in an infinity shape over the bust -- ignore this as it's not that visible in real life.
With a plentiful skirt and a tank style top, this dress is eminently wearable and comfortable. I love the fit and flare shape. I love the skirt which has volume but isn't crazy. That lovely floof is thanks to layers crinoline underneath:
In terms of sizing I felt great in my usual size 6. One thing to note -- the zipper can easily get caught up in all the design elements of this dress. Zip with caution!
If you can only buy one dress this summer this one would get my vote. It's beautiful! And it's on my wishlist.
I've reviewed many more dresses recently; you can see them all by clicking on
reviews
in the navigation bar at the top of the blog. What do you think of the dresses in this review set? Which dresses would you like to see reviewed next?