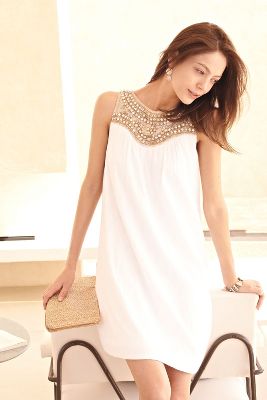 Is it any wonder that this classic Anthro beauty sold out online so quickly?
I'm dusting off the ol' reviews tag and getting back into the swing of things with the first 6 of more than 20 dress reviews to come. (Tops, skirts, shorts and jackets will all get their turn too over the next month.) Anthropologie has been listening to customer feedback and the latest arrivals are a wonderful mix of Anthropologie familiar and new. What's good and what's not inside.
Style #: 27194232; orange (089)
Note: If you're wondering my sizing measurements/height/etc, they're detailed on this page.
The
Aniko Lace Dress
($168) looks straight out of 2007 and in this case that's a
very good thing
. Hey, Anthropologie, you're back! Knee-length dress? Check. Pretty design details that are stately but not overpowering? Check. Bra, curve and warm-weather friendly? Check, mostly. This frock has all the boxes I crave filled in. I am not so sure about the orange color but there's no denying this dress is pretty.
It's a cotton dress with a viscose lining. Thick lace covers the shoulder area (and it is see-through so you'll want to wear either a strapless or a nude bra underneath). An elasticized waistband defines shape well but sits a little above the waist in an odd fashion. The skirt portion is pleasantly perfect, with latticework along the bottom hem and circular eyelet medallions above.
If your bust is on the smaller side I think this will be the ideal dress. The bodice seems meant to lie smoothly. But for me, with a 34D cup, the bodice was fighting against me. The waistband is sitting right below my chest which I do not like. The horizontal lace strip cut into me. I tried on both my usual size 6 (shown on me above) and a size 8. The shoulders of the 8 were slipping off and the waistband was too big. So the 6 is theoretically the right size, though I reject the fit.
One other issue to note: the zipper on the dresses I tried were both really hard to pull open or shut. I worry about the longevity.
So overall we've got a lovely dress meant for the less busty that reminds me of the Anthropologie I've loved and missed. A huge step in the right direction, we just need the curve-friendly version now please! Though I won't be buying this dress, recommended for others.
Wear it with: the Limedrop Necklace ($198), the Suede Sorbet Sandals ($150) in mint.
Style #: 27298157; blue motif (049)
Leifsdottir's
Akela Swing Dress
($188) is a laid-back hi-low hem summer dress with a beautiful print and a
pretty back
. It's pretty oversized, with a gentle flare but no real overall shape. A simple scoopneck in the front comes just low enough to show off a necklace. The dress is lined, though the lining is not the same shape as the dress -- it's an even length instead of hi-low. It's made from silk with a poly lining.
I grabbed a 6, my usual size, but should have gone down to a 4. No matter what size you choose this dress is bound to be somewhat shapeless. In the summer that might not be such a bad thing. There's belting potential here I believe if the skirt's volume can be contained. I like how the dress hits at the knees even in the front (unlike the
Passionflower High-Low Dress
($168) which I'll cover in an upcoming set.
This dress is very tempting for those humid summer days. But the lack of shape leaves me somewhat underwhelmed. For now, back to the rack.
Wear it with: the Red Cedar Floppy Hat ($42), the Beaded Galicia Belt ($48), the Sasha Wedge ($158).
Style #: 27284355; white (010)
It's funny how the mind can justify some vacation splurges and not others. I've been looking for a white cotton summer dress for awhile. Bold white, ivory, cream, it really didn't matter to me. Along comes the
Graced Swing Dress
($188) and I knew I'd found my winner. With a delicate beaded and embroidered neckline, this dress can go either casual or cocktail. And it's super comfortable on.
Comfortable and also so, so shapeless. It's just one big tent of fabric cascading from the neckline. The model's arms are clearly at her sides in the product shot to hide all the extra fabric that must be exploding behind her. I initially grabbed a size 6 before going down to a 4 which still had plenty of sacklike volume. I really think this dress needs a belt.
So I asked for one...
...and the results are much better. You may be able to rock this dress without a belt but for me waist definition is the key! The dress is a cotton-poly mix with a poly lining. There are side pockets too! No extra bulk from those luckily. This one makes it almost down to my knees, resting an inch or so above them on my 5'8" frame. In the back there are 4 hook-and-eye closures at the neckline to ease getting into the dress. I don't think you need them though -- I had no problem getting it on with everything clasped.
A real gem that was worth full price to me. This one's already in my closet.
Wear it with: the Woven Disks Belt (now $30) in neutral; the Nubuck Gladiator Wedges ($158) in brown, the Brass Zodiac Cuff Ring ($42).
The
Rosebloom Burnout Dress
($158) is like midcentury floral pop art. Whether pink or the blue motif version I tried this dress is loud and pretty awesome. In shape however it's delightfully simple: a fit-and-flare that cascades to the knees. But what looks like a print is a bit more in real life! The flowers are appliqued onto the dress instead of flat in a fabric pattern. A little bit of 3D for your modern tastes. All the dresses I saw were in great shape but some website reports note the flowers can fray.
Patterns will differ from dress to dress. I got a kick out of the dress I tried, which had a single full flower inside a ring of partials. The skirt on the dress I tried seemed a bit of a mess though. There's only so much disarray my spatial faculties can take. I found a 6 to fit me nicely and this is yet another dress that you could easily belt if you choose. Somehow though this dress is calling for librarian styling -- a cropped cardi and a sweater clip perhaps? The dress is a cotton-poly mix that is lined and has a back zip. It's work-ready so long as vivid prints are OK in your office. The skirt has pockets, always a bonus.
Work appropriate pop art with a modern twist. Say that three times fast! For me, this dress is wishlisted.
Wear it with: The Pleated Rosebud Cardigan ($78), the Lily Heels ($138) in black, the Duobloom Necklace ($28).
Style #: 27197847; blue motif (049)
Keeping up my contention that all the cutest dresses are strapless, here is the
Forget-Me-Not Dress
($198). Adorable florals are splashed all over the bodice while chains of them float across the skirt. The skirt is plentiful but not overly so and it hits me right at the knees. I'm delighted that the bodice comes rather high in front, teasing me into thinking it might work on me.
The back has a basketweave stretch panel to allow for different bust sizes. But the bodice itself is short. Not a big deal for me since I'm short-waisted but probably an issue for more proportional folk. There's no boning but there is an elastine strip to help keep the top up. The dress is cotton with a lined skirt.
Strangely, I found my usual size 6 to be large. The bodice was too large -- clearly visible in the sideview shot above where it's off my body. I found Moulinette Soeurs dresses often run small so this was odd. I like the waist-defining strip of blue fabric. And I love how light and airy the dress feels. It seems prone to wrinkling but otherwise just lovely.
If this dress wasn't strapless it would be fine. Alas, I've passed the phase of my life where I even want to try to make these type of dresses work. So it's a pass. Perhaps a tank top-style version of this dress at some point Anthropologie? Pretty please, for the bustier among us?
Wear it with: The Berry Drop Necklace ($58), the Tipped Bow Slingbacks ($138), the Aurora Sun Hat ($58).
Style #: 27676600; blue motif (049), red motif (069), black & white (018)
Calling the
Janie Jersey Dress
($118) jersey is a little deceptive and mean. Jersey to me will always be cotton, but these days it's usually rayon and spandex. This dress is the latter unholy combination. Still, it's hard to beat any kind of jersey on those ridiculously humid summer days we get sometimes in NYC so I decided this dress was worth a try.
The good: the back is a solid color. The dress is knee-length and work appropriate. A v-neck comes a little low for day but doesn't reveal anything your coworkers shouldn't see. The waistline is billowy but defined. It's somewhat dangerous though -- it becomes very easy to look like a thick column in this dress. Belting this dress could be tough so I'm not sure what the answer is.
I tried on my usual medium. This dress runs true to size to on the smaller size. The skirt was more clingy than I expected! I like how the top draped in the medium, whereas in a large the danger of it slipping too low was ever-present. Of the three motifs I think the black & white version is the most casual. This blue motif could be dressed up easily for casual Friday at work.
Potential. I see. Wishlisted, but waiting for sale.
Wear it with: Izabel Mini-Wedges ($176), Tex Cork Wedges ($89), the Guided Sail Necklace ($128).
What do you think of these dresses? Have you tried or purchased any of them? What dresses should I review next?