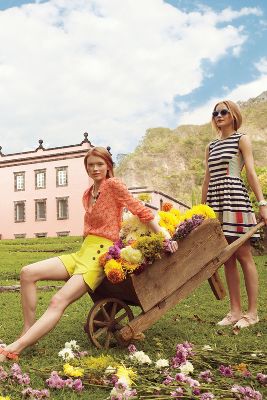 and a few more Anthropologie frocks.
IMPORTANT NOTE: One of my affiliate programs is in the process of migrating links to a new system. As such, many of my links are not working at the moment. They expect the migration to finish TODAY. I've used a different affiliate program on this post so please do click away! UPDATE: It's done! Hooray! Links work again.
Last week I had two dress reviews sets (
set 1
,
set 2
) and I've got one more for you today! Tomorrow we'll turn to tops.
Style #: 26863613; coral (085)
Note: If you're wondering my sizing measurements/height/etc, they're detailed on this page.
The
Coralblock Ponte Dress
($138) doesn't look like much on the hanger. Once on it's a very flattering warm-weather work dress. I appreciate the knee-length skirt and like the bathing beauty style of the top, though I suppose it could be too much in conservative offices. Easy enough to cover with a blazer by day, especially once the A/C gets cranked up.
The dress is an unholy mix of rayon, spandex, polyester and other crap. It helps the frock feel light on but even with these non-organic materials the dress is still dry clean recommended. Why? Perhaps because of the dyes used? I'm unsure. Just one note: I think the top looks reddish in these photos but it's coral in real life.
I found a 6 to be very comfortable. That's my usual dress size. The waist hits me in more or less the right spot and I like how the colorblocking would make this fun to belt. There are pockets which of course I love and I like that the top has enough coverage so I can wear a regular bra.
A good work-ready option. Wishlisted for reconsideration come sale time.
Style #: 26736074; brown motif (029)
Does it seem like the
Felidae Dress
(now $100) went on sale quickly? I thought it was a pretty new item when I found it at the Rockefeller Center Anthropologie a weekend or two ago, but maybe I'd just missed it. This dress is strapless in nature but the Rockefeller store had wisely attached the straps to make it more appealing to people like me. And the trick worked -- the straps are thick and functional, enough to shut me right up from my usual woe and doom about strapless frocks!
This dress is cotton with about 10% spandex mixed in. There's a layer of tulle below the skirt to give it some flounce. I like the pattern, mostly. I'm not too keen on the leopard. And unfortunately rather than one continuous pattern the front and back are two of the same panel so it looks like two half-leopards are stalking across my lower half. I do however love the touches of black across the bodice. Really flattering!
If you do decide to try this dress go for your true size. For me it was a 6. This dress has no boning for those that are thinking of wearing it strapless, but I did feel that the top is well-shaped and held me in nicely. The skirt hit right across my knees and the waist lands in nearly the right spot.
If the pattern on the bodice were the pattern of the entire dress I'd snap this one up. Instead, it's likely a pass.
Style #: 27285493; black motif (009)
The
Modern Composition Dress
($158) seems to be getting rave reviews online but in my book it's just a 'meh.' My main issue is how it makes my bust look. Not very flattering.
The dress is cotton and linen with a pleated skirt that's impressively full even without an additional underlayer. It's lined by viscose. On the bottom of the skirt and on the side panels are an abstract mix of watercolors set off from the black and cream stripes. There's a scoop neck and a defined waist.
I found my usual medium to be fine, a little loose between the chest and shoulders but nothing worth sizing down over. Sadly I felt a bit frumpy in this dress. It's not an indictment of the dress but rather a result of thick stripes over my chest. Not a fan. The dress is soft and comfortable on and hits just above the knee.
One thing to be wary of: I've heard this dress can bleed colors in the wash. One online review confirms this. So if you do purchase the dress wash it alone the first couple of times. For me this is a pass.
Style #: 26760991; grey motif (008)
Nightgown or nightlife? How you feel about the
Zelda Painted Shift
($198) may depend on your shape. I was shopping with our community's Liza and
Usha
when I tried this dress on. On Usha? Delightful. On me? Decidedly less so. It's strange because I own the Eleonora Flight Shift (jog your memory
here
) which is more or less the same dress with a different print, though the Zelda is numero sized while the Eleonora was alpha-sized. I love that Eleonora dress! But the Zelda didn't quite do it for me.
This dress is silk with a polyester lining. Zelda looks like a lovely painting, a pretty redhead with lipstick so cherry. It hits a few inches above the knee and when you sit it becomes a thigh revealer for sure. The sleeves are bracelet length. The overall shape is straight as straight gets. If, like me, you are susceptible to gagging when necklines come too close to the neck be wary of this dress. When I'm standing up in my Eleonora it's fine but as soon as I sit it becomes an issue.
The dress runs large. A 6 felt huge on me, especially from the back where no shape means it was just hanging like, well, an unframed piece of art. The back is just the falling florals while the front holds the majority of the pattern. The sleeves were also quite loose in a 6.
I can see this being a great party dress. I just require more shape to show off my shape! A pass for me, but a lovely piece.
Style #: 27850320; lilac (055) or turquoise (046)
At this point Anthropologie is totally on to our penchant for wearing chemises as summer dresses. So it's nice to see the very fair price point of the
Colorblock Trapunto Chemise
($68), a chemise that definitely works outside too. I think I prefer the turquoise version to this lilac one I tried, but it was the only one in my size. Or what I thought was my size.
This chemise has a stitched bodice with a basketweave stretch panel in back. It's pima cotton with with some poly and modal mixed in. The polka-dotted straps on the corset top are adjustable and that same pattern is piped down the top. Oh, and the skirt has pockets!!! It is however unlined. Which I guess is to be expected at this price point.
I was surprised to find this chemise runs large. A medium was far too big -- most noticeable in the profile shot in the middle above where you can see the corset is not touching my body. Haha. I do like how high it comes! I'd go down to a small to purchase. The top is a little stiff which knocked a couple of stars off for me.
A good candidate for my upcoming trip to Hawaii. For now, the turquoise is wishlisted!!
Style #: 27863661; navy (041), black (001), red (060)
It seems like Anthropologie has heard our price point feedback -- here's another legit dress that's under $100 and is pretty darn cute! It's the
Striped Day Dress
($78). This dress is all kinds of stripes! Chevron! Nautical! Vertical! Horizontal! I'm a little dizzy looking at it. I think this navy version I tried is probably the most intense of the three.
Cotton and poly mix to make up this dress. It's a pullover with a deep v-neck and a high back. No lining. It hit just above my knees. The horizontal side panels are a great idea, I just wish they started a little further towards the side. The skirt has inner pleats of vertical stripes and outer pleats of horizontal stripes. It's a lot to take in but it's admittedly very cool.
I found this dress to run large. I felt better in a small than my usual medium. It's a light dress of medium thickness that feels easy and comfortable on. It would be very easy to belt or throw a cardigan over it for a complete look.
I like this dress but I'm not enamored of it. Wishlisted for further consideration come sale time.
Do you own any of the dresses in this set? If so, how are you styling them? Which dress is your favorite?