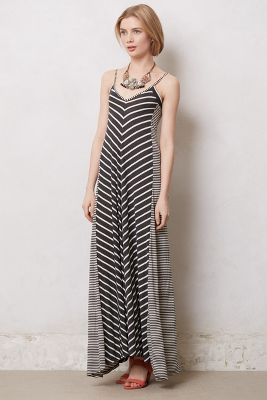 Thank you to everyone for your feedback on which dress to invest in from
this morning's reviews set
! Your honest opinions are very helpful and it's so wonderful having a great group of people here to sift through the options. Feel free to use the comments anytime to do the same for yourself!
In the second reviews set today I'm still stuck on dresses. Which ones rock and which ones do not? Read on to find out...
Note: If you're wondering my sizing measurements/height/etc, they're detailed on this page.
Ever come across a painting at the museum and find yourself staring at it endlessly, trying to make sense of it all? I'm especially prone to this mind block at paintings with subject depth. Sometimes what's going on in the background is much more interesting than what's front and center.
And that's kinda how I feel about the
Banded Totem Shift
($178), a pretty shift dress that clearly needed to be more than just stripes, though I'm not sure that the red embroidery is the answer. When I try to think of what I'd do instead I'm stumped. Fewer stripes? Embroidery ending at the waist? Can't say.
The dress is cotton with polyester embroidery and an acetate lining. It's got some heft to it but doesn't feel warm on so it's OK for warmer weather. There's a back zip to get in and out. The dress cuts right across my knees, hitting in the perfect spot as far as I'm concerned. It fits just like recent Tabitha shifts, i.e. the Embroidered Fountain Shift (jog your memory
in this post
). Stick with whatever size you usually wear in Tabitha shifts. These days that means a 6 for me, though I've got an 8 on in the photos above.
Plenty of possibilities, all of them vacation-related in my head. For that reason I'll wait til sale. For now this dress is wishlisted!
As of this writing the product page for the
Mallorca Midi Dress
($168) doesn't seem to be working but I'm sure it will be restored soon. This cotton eyelet dress looks adorable on the model but on me much less so. I think this is one of those dresses where a column-like shape is best suited for the fit.
The dress has a side zip and a basket-like stitch on the waistband and just above the hem. The dress is lined but not nearly enough to conceal darker underlayers...good lord. My main issue with the fit however is through the bust. I'm guessing the waistline is supposed to sit at my waist, right? Not right under the bust? Not loving the shape it gives my chest either. I'm in a size 6 for these photos. I also tried on an 8 but found little help in the fit.
A beautiful dress. Just not for me. Back to the rack.
Style #: 27173004; blue motif (049)
My long run of luck with Weston Wear seems to be over. This super-dark navy sheath dress is the
Islington Pencil Dress
($158) and it's just terrible on me! The polyester knit is incredibly unforgiving and it hugs my curves in all the wrong places. Weirder yet, there seems to be an issue with the lining that caused it to catch below my knee no matter how I twisted or contorted myself. This dress looks so cute on the model! I guess I know now why she's standing the way she is though.
This dress is a pullover which is a really odd choice for a work piece. There is a keyhole in the back to help keep your makeup on your face and not on the dress. It is very long, hitting below my knees. Yet I could still walk in it. I tried on a medium. Does it fit? I don't know. Would a large have been better? Perhaps but it still would have hugged my thighs and hips. It's just a no-go dress for me. Shame, because I really like the herringbone pattern with the dark sides.
This could have been a great work look for me! Instead it went back to the rack as quickly as possible.
Style #: 27103993; light denim (092)
This year's chambray shirtdress that won't go on sale til next year is here! This is Cloth & Stone's
Belted Chambray Shirt Dress
($148), a soft and short dress that's not quite as nice as last year's
Fremont Shirtdress
in my opinion. It's much softer than the Fremont but I'm not as into the faded color. The color is on-trend though: Joie makes a
similar dress
for $70 more.
Here's what I like about this dress: it's super soft, the belt works pretty well and the dress looks fine belted or unbelted. Here's what I'm not so into: the sides have a little notch that makes the dress really short, the pockets are way too big and the sleeves also seem very large. I'm in a small for these photos and if I didn't know the x-small would be obscenely short on me I'd have gone for that smaller size instead. So true x-smalls and perhaps true smalls may find themselves sized out of this one.
If soft is your main criteria this is the chambray dress for you! Else, pass.
Style #: 26983395; black & white (095)
This is the "love" dress that we saw in the Soho Anthropologie's
Spring Fashion show
(outfit 14), now with a name. It's Lil's
First Blush Dress
($148) and, well, I'm not really feeling the love. We've been calling this the love dress because if you look closely at the print
you'll see the word LOVE
stacked over and over and over. I've got love on the brain too! And it works well as a nice graphic print.
But oh how the fit gave me fits. I'm in a 6 above and maybe it's just too big? The shoulders seem OK and the waist is in the right place but I don't like how the top portion of the dress looks on me at all. This frock is polyester and fully lined which is good, because it's quite thin. I like that it has pockets but the slanted placement can overemphasize thighs. This sleeve style is tough on me too, it makes my upper body look much bigger than it is. I do like that the dress is knee-length and perhaps it would be better on me with the neckline open rather than tied shut. Still, I wasn't really feeling it.
A dress that in my opinion works as a layering option but not on its own. A pass for me.
Style #: 27824150; grey motif (008), mint (102) or navy (041)
I may have had my Anthro goggles on at the Rockefeller Center store last weekend because I loved the
Market Day Striped Maxi
($88) when I tried it on. Looking at these photos now, and especially the model shot above, I'm no longer confident in my initial assessment. But even if it's not so great on me I do like this dress a lot.
It's a rayon-polyester maxi chemise with adjustable straps. The sides are about two inches longer than the front of back, which meant the sides brushed the floor from my 5'8" frame while the front landed above my feet. The chevron pattern of the main body is set off by horizontal stripes on either side. The dress is thin but opaque. It hugs the body through the bust, waist, hips and thighs before releasing in the skirt.
I initially tried on the mint in a medium, shown below. The fit through the body was fine but the top straps were way too long, so it's down to a small I went for these shots above in the grey motif. Of the two I much prefer the color of the mint version. I'd probably plop a denim jacket over this and be on my way for the day. Or maybe my
Openwork Army Jacket
.
Here's the mint in a medium:
Too low cut, with the small slightly better. But a looser fit through the body. So your fit preference will depend on how bodycon you want to go.
A beautiful maxi but I'm thinking this isn't as flattering as I first thought it was. So, wishlisted for reconsideration at sale time.
Do you own any of these dresses? How are you styling them? What do you think of the dresses in this reviews set?