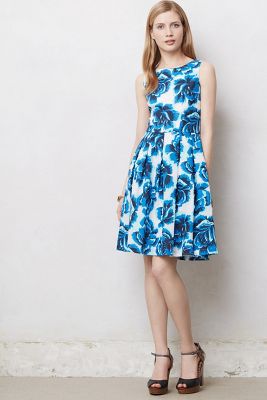 With sale sadly off the table this week, things are kind of slow-going on Anthropologie's radar. Since the May catalogue will likely omit some of the most tempting new items let's take a look at the
latest Anthro goods
that are now on my wishlist.
It's nice to see so many knee-length options at Anthropologie right now! The four dresses above plus the
Roseblue Burnout Dress ($158) that opened this post are my main temptations right now, though I've added more than just these to my wishlist. The Mae Striped Dress ($118) looks a little short but still doable on a very casual day. Which dresses have you fallen for?
Other new dresses intriguing me: the Boho Surplice Dress ($328), the Laced Lemondrop Dress ($168, review upcoming), the Petal Stamp Dress ($148), the Alva Layered Dress ($158), the Olivia Dress ($228), the Kaleidoscope Shift ($268) -- this last dress is also available in a purple-based print via Neiman Marcus ($297).
In terms of tops, none of the newest releases have really grabbed me. I think I've tried on pretty much everything I really like at this point and now it's just a countdown to sale. Were I still building my closet the four above would already be in my home. Since my closet-building days are mostly over and I've turned to refinement only, it's less likely that more than one of these will end up with me.
Still, I'm always wishing for more.
Other new tops intriguing me: the Lasercut Springtime Blouse ($178), the Striped Interlude Top ($78), the Lattice Bib Sweatshirt ($78).
Springtime is yielding some pretty cute sweaters at Anthropologie! The
Loft District Cardigan
($98) is just the kind of spring topper I love -- something I can wrap myself up in on those blustery April days. With the thermometer stubbornly back in the 40s right now in NYC I haven't been able to pack away my winter gear yet. If I have to wear lots of layers, something with flowers on it is just the inspiration I need.
In the shoe department my pedicure is ready for peep toes and sandals! I have to admit that even my vacation closet is pretty ample, but I might just need to pick up the
Diamond Bow T-Straps
($148) so I can bring one new thing on my next trip for good luck.
In the accessories section I'm loving the seas of blue among the
jewelry
and the large satchels sprinkled in with the
bags
. Just name a bag
Nantucket
($298) and I am so there. That satchel looks perfect for a picnic! On the beach. With a pug. And a large striped blanket.
Also loving: the Comtois Woodland Satchel ($98), the Rugged Tulgey Tote ($358), the Stitched Floral Scarf ($58), the Fringed Ellipsis Scarf ($128).
What new arrivals are you drooling over? What's missing from the latest options at Anthropologie? What have you purchased recently and loved? Hated?