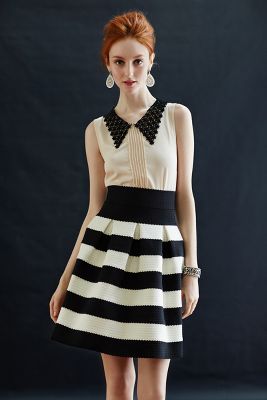 A darling top by Darling. The Rosaline Shell ($88) gets reviewed today.
Although I know you're eager to see more dresses get reviewed I'm going to give it one more day to see if they show up online. In the meantime I've got a backlog of tops to get through so here's the first of multiple sets featuring thoughts on tops.
Style #: 26583344; grey motif (008) or blue motif (049)
Note: If you're wondering my sizing measurements/height/etc, they're detailed on this page.
Among the comments I get from friends about Anthropologie is that they feel like it's expensive DIY. That commentary was echoing through my head as I tried on the
Twist-Layer Top
($78), a basic tee shirt that looks to have fabric stapled on. I also kept bouncing back and forth on whether I felt this top was super cool or super ugly. Upon spying it:
my god that's ugly!
Upon trying it:
hey, that's kinda cool!
Upon imaging bringing it home and showing my guy:
ok, it's going back
.
The top begins with a tee made from an unholy mix of rayon and spandex upon which a swath of fabric is plastered, complete with bow-like detail on one side. The blue motif version looks sort of like a shirt apron and this grey motif version I have on is a delightful tablecloth. It's blissfully long, hitting low hip on me. The scoopneck is generous, perfect for framing a pretty necklace.
I often size down in one.september. In this top however I was more comfortable in my usual size medium. There is the beginning of something wonderful in this top. Here's what I think: if this top were a structured tank with thicker straps, and the front were made of the fabric as it lays and the back were the solid tee material, perhaps with a bottom hem border of the tee material in the front, then this would be awesome. Right now it looks like one top is trying to explode out of another.
This is exactly the kind of top I would have purchased blindly a year or two ago because I like the idea and then it would have sat in my closet, tags attached, until I finally admitted defeat. Instead, I'll pass on it for now. I could be convinced by some successful styling but I think this top isn't quite there.
With the top I'm wearing the
Tiled Mosaic Shorts
($88) by Cartonnier which I'll review in an upcoming set. They run TTS.
Style #: 26979567; mint (102), chartreuse (035) or red (060)
I'm going to sound like a fussy britches in this reviews set. The
Katrine Peplum Top
($88) is another top that's close but no cigar for me. This lace top has a beautiful shape to it in both scoopneck front and v-neck back. The chantilly pattern is feminine, delicate and wonderful. The peplum even hits me in the right spot -- low enough to hit my real waist yet generous enough to clear my hips without making them look bigger.
My biggest issue with this top is the polyester lining. I should say I'm so very glad this top is lined!! But the color is too skin-toned, and too fair-toned at that. It almost looks like I'm not wearing anything underneath the lace which is an odd feeling. And if you have darker, or different-toned skin, I think it will look even weirder. The effect is most noticeable on this mint version I'm wearing. The chartreuse version pulls out the pinkness of the lining while the red draws out the brown tones.
Sizewise, a medium fit me perfectly. Of the three colors I think the chartreuse is most likely to come home with me. I'll wait til sale. For now, wishlisted.
The skirt I'm trying on is the
La Festa Pencil Skirt
($148) which will get a full review in an upcoming set. It runs TTS.
Style #: 26477224; mint (102)
It didn't occur to me until I was home but I see now that the
Porto Garden Blouse
($128) is basically another pattern of the
Warbler Post Peasant Blouse
($128,
review
). I'm torn between the two tops -- I really like them both! Though I like the color scheme of the Warbler better I think the pattern of this Porto Garden Blouse is more successful. Some will be turned off by the teal tinting at the bottom of the blouse. I think it's cool and you can easily tuck the blouse into a skirt to suppress that feature. (Anthropologie seems pretty undecided on the tinting itself, showing the blouse tucked in whenever possible.)
This top is made from silk. It has a square neck with a thick border detail, slightly puffy bracelet sleeves with a button wrist detail and two pleats at the bust. Like the Warbler, this top is cut tight across the chest. While my usual 6 fits there is some slight pulling across the bustline when I extend my arms. Something to be aware of for the bustier among us. The top is somewhat sheer so you'll want to layer a cami underneath it.
A gorgeous top, prettier than the online shot would have you believe. I recommend checking it out in person if you can to appreciate the beautiful design. If you were me, would you purchase the
Warbler Post Peasant Blouse
($128,
review
) or the
Porto Garden Blouse
($128)?
Style #: 26844217; neutral motif (015)
Part oxford, part military, all tunic. That's the
Alexis Buttondown
($88) in a nutshell. This semi-sheer blouse is polyester with an oxford tuxedo panel in the front and a black shoulder panel that peeks over the front. A thin waist tie helps define shape.
My true size 6 felt fine. This top, like most buttondowns from Maeve, is cut narrow through the shoulders. The sleeves are slightly loose. At the bottom hem, the sides are slightly shorter than the front or back. The fit is good and has a dress shirt feel, cut close to the body without being too tight.
Here's how the top looks with the waist tie undone:
I prefer Anthropologie's suggestion of wearing this tunic over a pair of cigarette jeans. It's cute and a possible sale pickup. For now, wishlisted.
The skirt here is Holding Horses'
Denim Pencil Skirt
($78) which I'll review in an upcoming set. Size down one waist size in this skirt.
Style #: 26696336; mint (102) or 5 other colors
If you're looking for a good weekend top and don't mind spending a little more on a basic than usual, try the
Tristitch Dolman Tee
(now $30). I loved this minty color and needed a couple of new around-the-apartment tops. This one seems like a good fit. It has a generous scoop and easy-to-roll sleeves. It's a little sheer which is a bummer but around the apartment it doesn't matter as much. The top is part cotton, but also part rayon and part poly. Some colors are more heathered than others.
A medium was comfortable loose on me. This top is longer than it looks online, hitting mid-hip on me. In the summer I could see wearing this over my bikini on the beach. On sale the price is more reasonable. I'll probably pick this top up in a couple of colors, this mint and perhaps the peachy orange color.
Style #: 26784884; ivory (011)
The adorable
Rosaline Shell
($88) by Darling is a somewhat sheer polyester blouse with a decorative cotton lace collar. It's pretty, it's got a nice straight shape with tuxedo pleats and the peachy color is versatile. It's so annoying to have to layer underneath it though!
This top is really long! It hits below my hips. I found that my usual size medium was too big, so down to a small I went. If you've been thinking about trying the statement collar trend this is a great top to experiment with because the design is timeless even though it fits into the current trends.
This is a top you could own for years to come. Recommended! And wishlisted for me.