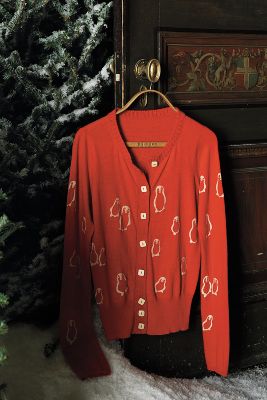 Hi there! I'm Tamara, and I blog at
My Darling, My Dear.
I'm so excited to be guest blogging while Roxy is on vacation. I'm pretty new to the Effortless Anthropologie community, and I've loved learning more about Anthropologie and sharing reader outfits over the last few months. (I'm also so grateful that y'all have taught me about things like popbacks and charge/sends!)
I've been shopping at Anthropologie for years, but as a student (and now recent graduate) on a tight budget, I have to be pretty selective in what I purchase. Generally, I won't spend more than $50 on one item, and $30 is much more my speed. I generally stroll through the full-priced merchandise at the front of an Anthro store (or browse online) to get a sense of what I like and want to keep an eye on when it hits sale, but then I quickly beeline to the sale section. Years ago, a girl looked over at me while we perused the sales rack and said something like, "For Anthropologie, I'll wear spring clothes in winter and fall clothes in summer." Granted, that was in my home state of Florida where we don't really have seasons, but I appreciated the sentiment.
I'm fairly particular about what type of item I'll buy from Anthropologie. I don't stock up on basics; for those I grab cheapo pieces from Target or Old Navy, or see what I can find at thrift stores. (One of my proudest thrift store finds was a great Peacock-printed Odille skirt that I got for five dollars!) To get the most bang for my buck, I always ask myself if an Anthro piece I'm considering is something unique, worth spending a little extra money on. Some of my favorite latest Anthro sale finds:
Another favorite tip of mine is to shop
Anthropologie's chemises
. Nine times out of ten, they are totally appropriate for daywear, and something I would actually feel silly wearing to sleep! (They also tend to be quite a bit cheaper than day dresses.) I
love
Colleen of Foreign Circus Closet's use of
an Anthro robe as a gorgeous wrap dress,
too!
Keeping up with Anthropologie's e-mails and making sure your mailing address associated with
your Anthro Card
is up to date, too, can be a big help. Hello, birthday month discount! I was so excited when Anthro offered their half-off Black Friday sale in 2011, and the thirty percent discount they offered this winter was great, too. Stocking up on items you've had an eye on for a while is such a rewarding feeling. I'm not an impulse buyer, which helps. I try to ask myself if I truly want something--things I've coveted for a long time eventually make it into my closet, and I appreciate them a lot more.
Left to right: I wanted the Chambray and Lace Buttondown for ages, but when it finally hit sale, I missed it; I loved the Pilcro Stet Slim Straight Geo Cords, but ended up falling instead for the Pilcro Serif Paisley Leggings; a trusty Anthro scarf I wanted for months before I bought it, worn in Barcelona at Casa Batlló; my absolutely treasured Revisited Impressionist Dress, which I was happily able to nab due to a sale, a charge send, and a few gift cards!
Finally, don't let that perfect opportunity escape you. I'll buy almost anything that's in the ten to twenty dollar range. One of my choicest Anthro finds was at the Philadelphia store at Rittenhouse Square--a Sales Associate was just processing a return on a cute Ella Moss tank. She told me it looked like it would fit me and was only ten bucks; I took it without thinking about it!
I snagged the
Elevenses Wind Garden Culottes
for twenty bucks a year ago--they are one of my absolute favorite pieces in my closet!
I love mixing Anthro pieces in with my wardrobe--I frequently wear an Anthro skirt or top with thrifted or inexpensive pieces from other stores to create outfits that are fun and, more importantly, me. I'm so happy to be a long-time Anthro shopper, and I often get compliments on the pretty Anthropologie pieces I wear, which makes my day. And of course, having confidence in what you wear is so important, as is remembering that at the end of the day, they're just clothes.
Thanks so much for reading! I'd love to hear any other tips from budget-conscious Anthropologie shoppers.