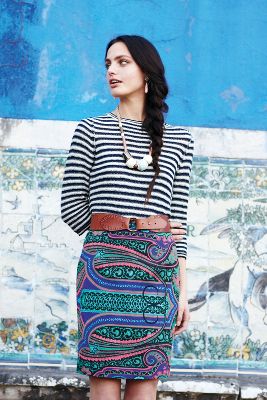 It's no secret all the readers on this blog are die hard lovers of Anthropologie clothing. But sometimes our addiction can be a little tough on our wallets. As a current part time employee of an Anthropologie, I find myself being repeatedly exposed to their clothing. Therefore, I feel like I have a good eye for spotting similar items sold at other stores. And usually at a cheaper price! So while Roxy is away, I, Sarah of
little yellow apple
, am going to share 5 look a like Anthro items that will be easy on your wallet.
Anthro is all their Charlie pants right now, and they have two designs in a floral print: Miniflora and Megaflora Charlie Trousers ($88 each). The yellow floral pants have the same bold colorings, like the pink and orange, as the Miniflora, and the white pants have the isolated floral print like the Megaflora. Both at half the price.
Last, but not least, I am so excited about the spot on Anthro furniture piece! I flipped when I saw Arhaus, the other company I work for, sells a bed almost identical to the Cosette Bed ($2,298). You could buy two beds for the price of Anthro's, and you'd probably sleep just as well.
So there you have it Effortless Anthropologie readers, a handful of pieces that I hope will help your budget. I hope you've enjoyed this post and I'd love to see you over on my blog, little yellow apple, if you like what you saw here. Happy Shopping!