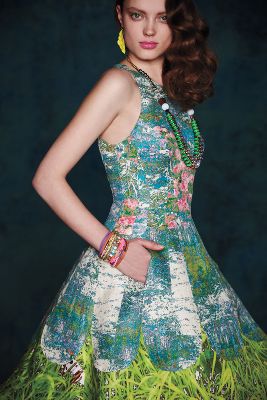 Hello! I'm Jeannie from
www.colorfulcorporate.blogspot.com
and I'm so excited to be a guest poster for Roxy! Effortless Anthropologie is one of my favorite blogs of all time, so this is such an exciting opportunity Today I'll be sharing with you how I shop at Anthropologie...exclusively on the sales racks. Here we go...
Anthropologie...how I love you. Your selection of unique clothes, unusual jewelry, and quaint home decor...I even love how it smells in Anthropologie. I still remember stepping into my first Anthropologie, more than 10 years ago, during a trip to Chicago. Since then I've been a loyal Anthro shopper, especially after one finally opened in my hometown of Cincinnati, Ohio.
As loyal as I am to the Anthropologie brand, I'm also my mother's daughter...a bona fide bargain hunter. It kills me to pay full price for clothing, especially Anthropologie's idea of full price! $300 for a day dress? Gulp. Out of my price range by more than a few dollars! Over the years I've developed quite a knack for successfully acquiring most of the pieces I desire at Anthropologie, without ever once paying full price.
So how do I managed to bargain shop at a store like Anthropologie? Here are some tactics that have worked for me over the years, along with some photos of Anthropologie bargains I have acquired
:
This Tracy Reese dress was on everyone's wishlist last fall, wasn't it? It sold out online almost immediately when it went on sale, and my local Anthropologie didn't have my size...yet I still lucked out and scored this preppy girl's dream. Which brings me to my first point:
1. If you are lucky enough to live near an Anthropologie, get to know the sales associates. I can't speak highly enough about the Anthropologie SA's at the Cincinnati location. They are all friendly, helpful, and willing to go the extra mile to find me the item I'm looking for. In turn, they can be sure that I will ALWAYS treat them with respect and kindness, even when the line is a mile long, the dressing rooms are full, and the store is crowded. Working retail is no cake walk, and I appreciate what they do! When you make friends with the SA's, they are far more likely to help you out, hold an item for you when it goes on sale, or search for an item for you. My favorite SA, Trisha, found the Tracy Reese dress for me the moment it went on sale, even though it was sold out in Cincinnati. I felt so fortunate, because this dress is truly my idea of the perfect party dress!
Palma Dress (winter 2012)
Retailed for $188
I paid $85 (sale price of $100 + my birthday discount of 15%)
The Palma dress was another fantastic frock that was gone nearly the moment it hit sale. But not before I got my hot little bargain-stealing hands on it. Which brings me to:
2. You all know this already, but the blog you are enjoying right now, Effortless Anthropologie, is the most valuable resource we have for Anthropologie sales tips! I faithfully read Roxy's sale posts every week to determine which of my wishlisted items will be hitting sale! A big THANK YOU to Roxy for all the time she spends compiling this list every week! In fact, that's how I was able to grab my beloved Palma dress. Roxy had tipped us off that this dress was going on sale, so I immediately called my local store and asked them to hold my size until the next day. How grateful did I feel to Roxy when I went to pick it up, and it had already nearly sold out? Had I not known it was going on sale, I may have missed out. Thanks again Roxy!
3. If the first markdown isn't low enough for you, try to hold out some more, especially if it's not a hugely popular item. I adored the Peter Pan Paillettes sweater from the moment it came out. Baby pink, a peter pan collar, and some sparkle? Love. But there was no way I could afford it at the full price of $168. When it finally hit sale, it got marked to $89.99. To me, that was still too high for a trendy item. So I decided to risk it by waiting longer, since my store seemed to have plenty of them. Finally I scored it for around $60...a perfectly reasonable price for me, and I'm so happy with it!
4. Finally, keep an open mind. I own plenty of Anthro items that I scored on second markdown...items that I hadn't really thought much about until seeing the great price and trying them on. I'm not suggesting buying sale items simply for the fact that they're on sale for a great price, but what's the harm in trying it on? I was scouring the sales rack the other day when I happened upon this sapphire lace dress. It was on second markdown for $49.95 and guess what? I don't have many winter cocktail dresses so I gave it a try. I fell in love! I had passed by this dress during other trips to Anthro without giving it a chance...I'm so glad I finally tried it on! You never know what you may love until you give it a try.
I hope my tips will be helpful to you as you explore Anthropologie's sales racks. Happy shopping! I'd love if you visited my own little blog,
www.colorfulcorporate.blogspot.com
...a blog about a married mother of three boys working full time in the corporate world while trying to keep it fashionable!
Thanks again Roxy for the opportunity for this guest post!