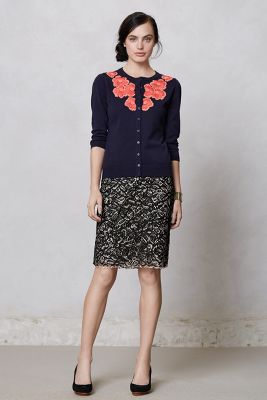 In this reviews set Anthropologie impresses me with their skirts! Well, most of them anyway...
Style #: 26814475; black motif (009)
Note: If you're wondering my sizing measurements/height/etc, they're detailed on this page.
Midcalf is a tough length to pull off. The
Sailaway Circle Skirt
($148) falls to that length and yet it looks great. I love, love the oceanic pattern complete with fishing vessel and a house-dotted island with lighthouse. The skirt reminds me of a wallpaper our old place in Cape Cod had and I mean that as a compliment. The black base color is the perfect setting -- I like it over navy. Up near the thick waistband are two brass buttons with anchors on them.
The skirt is unlined but it's sturdy cotton material falls nicely. I found it to fall much straighter than the online photos would have you believe. It's actually quite sleek. My usual size 10 felt very loose so I sized down to an 8 for these shots. With a waist that sits at the natural waist you'll likely be able to size down too.
My only complaint? With such a large pattern it's really annoying that the print doesn't line up at the side seam. Come on Anthro. You have to get this right. I know you can do it!
Pattern placement aside this skirt is a real winner. Wishlisted!!
Style #: 26455402; blue motif (049)
Music? Check. Birds? Check. Sky and clouds? Check and check. Meet the whimsical winner the
Songbird Circle Skirt
($128). This softly pleated circle skirt is the fit-and-flare knee-length style Anthropologie used to excel it. I'm so happy to see it back! There are two side pockets deftly hidden by the pattern and the cotton material is treated on the outside with something that makes it feel slick. Not oily though. The side zip was somewhat of a pain, getting stuck on mine where the waistband and skirt meet. Annoying!
Once again my usual 10 was loose so down to an 8 I went. The skirt fell just below my knees; this is my ideal length for skirts. Though full the skirt isn't overly voluminous. You'll want this skirt to sit at least an inch below your waist, resting on your hips instead. That could make choosing the right top a challenge and may leave the look hard to belt. Worth it though!
Another lovely, lovely skirt currently sitting on my wishlist.
Style #: 26449454; mint (102) or navy (041)
My love for pencil skirts has mostly faded to tolerance but the
Brocade Pencil
($98) may change that back to love. I'm very much in love with the pistachio color (pistachio! It's this year's mint) and believe it or not the large front pockets are a great design detail. I also love the waistband which is highest front and center, making it easier to tuck a top in.
This pencil is brocade cotton-poly that is unlined and has no back vent. Doesn't need a vent either -- it's really more of a straight skirt than a true body-hugging pencil. I tried on a size 10 and found it to fit comfortably. That's my true size and I recommend you stick with yours.
Lots of possibilities with this skirt. My favorite of all the choices in this set; it's currently in my cart.
Style #: 26395913; blue motif (049)
I'm sure that owning two denim pencil skirts is enough but thanks to the
Pilcro Dotted Denim Pencil Skirt
($88) I'm tempted to own a third. Brilliantly deployed polka dots fall all over this dark blue denim pencil. I loooove the rusty red (burned brown?) color of the polkas and their geometric layout.
While I'm over non-denim pencils, I love the fit of jean skirts. They hug curves and shape at the same time to help with fit. I found this skirt to run huuuuge. A 31 (my normal jeans size) was ridiculous; a 30 only slightly better. You see me in a 29 here which will someday be my size again but for now is just laughable vanity sizing. I like how this skirt comes below the knees and the tapered fit that still lets you stride.
Another winner! You're on a roll, Anthropologie. What's next?
Style #: 26998229; kelly (033), red (060) or dark grey (005)
It's not that the
Alva Lace Pencil
($88) is bad. It's just that after all the great skirts above it was a letdown. This cotton-poly skirt has a floral lace pattern on the outside and is the first skirt in this set to have a lining. Unbelievable as that is. There's a tiny back vent which you need because this skirt falls mid-shin, a few inches below the knee.
From the front this skirt feels fine but from the side and back I'm less enamored. I found this skirt to run true to size -- when I tried going up to a large the waist was hanging off of me. I like how this skirt hugs curves, I just wish it was a little more tapered in at the waist. As it is there's a strange extra hump of fabric hanging there.
The color of this skirt reads as green or teal depending on the light. Always fun! This skirt is cute but not for me. It went back to the rack.
Style #: 27176510; black motif (009)
I was very excited to try on the
Dual Foundation Pencil
($88) because it reminds me of the
Embroidered Lace Pencil Skirt
($148), which has come out in three versions and hasn't worked on me once. I hoped this pencil would! What I didn't realize is that it's literally two layers of mesh-y lace fabric. The underlayer is an ivory-beige color and the overlayer is black. That makes this skirt oddly hard to put on. The black overlayer wants to twist and contort. There's a back zip to help you in.
I tried this skirt in a medium but found it was too tight. I'd go for a large to buy. I don't like how the bottom hem is raw, meaning this skirt could come apart on either layer. I also wish it had a nicer waistband...or it had one at all. Instead it just ends at the waist and my tiny waist-to-large-hips area is not liking that very much.
This skirt is pretty to look at but challenging to wear. Pass.
Coming up tomorrow: BLAZERS! I've also got tops and another round of dresses in my queue. Have a review request? Let me know in the comments! Have you tried any of these items on? What did you think? How would you style these pieces?