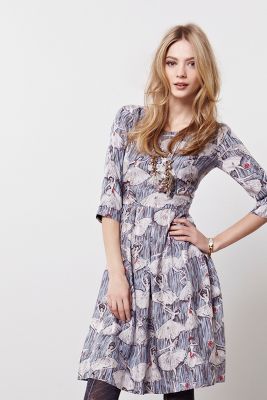 If only this was the version of the Bourgeois Dress ($298) that made it to stores.
More dress reviews on tap this week! Anthropologie is throwing a little bit of everything at us right now. Will anything stick the landing?
Before I launch into the reviews, I have a quick plea for Anthropologie: the fitting rooms at your 5th Ave (NYC) location
suuuuccckkk
and need to be fixed. They used to be caves before the renovation and I do very much appreciate the new more open layout of the dressing room area. But the rooms themselves are
still
caves with little halogen potlights don't illuminate the room fully. They give off so much heat that it feels like a sauna. I'm always sweaty by the time I'm done. Because of this I avoid this Anthropologie as much as possible, which makes me sad because it was my original stomping grounds. Flatiron deserves better!
To the community, apologies for the wonky lighting in these review photos. I balanced them as best I could without distorting the colors of the garments.
Style #: 26621748; black motif (009)
Note: If you're wondering my sizing measurements/height/etc, they're detailed on this page.
The bodice of the
Voksoper Dress
($128) has a beautiful tile-like design that's white on black on the front and black on white
in the back
. It has a gentle v-neckline, a well-defined waist on a crisp cotton-poly skirt and an exposed zipper that bugs. The skirt portion has deep pockets and falls to about 1.5" above my knees. There is no lining. I love the design on the top portion! The mix of thicker and thinner bands is lovely and the crossing v design is beautiful. The back design with swirls is really cool too!
I'm always amazed by how even someone like me with a short torso can look even shorter torso'd thanks to a dress like this. The bodice portion seems to be cut for someone with a smaller bust, so the waist ends up hitting an inch or two above the real spot. As a result I feel more busty than I am and the dress looks off proportionally. I started in my usual 6 and I also sized up to an 8 to see if that would combat the issue. It didn't -- the 8 was too big on the sides and not much longer than a 6.
I know it's a challenge to cut a dress for all the different shapes out there but I think another inch of bodice would have helped more people than it would have hurt. With a pout, this pretty dress went back to the rack.
Style #: 26468686; blue motif (049)
I'm not usually one for peasant dresses but the colors of the
Rosalie Peasant Dress
($148) intrigued me. This polyester dress wants to pretend like it's light, partially sheer silk. The dress is lined but the lining is shorter than the dress, so part of the skirt is sheer as are the sleeves and shoulder area. I typically associate peasant styles with shapelessness. Anthropologie's design team did a nice job here of creating a cinched waist and flowy shape without going overboard. The result is a pretty flattering dress.
My usual size medium was comfortable and a good fit. Anthropologie's had so few long-sleeve dresses that I almost forgot what it feels like to have a sleeve against my wrists! The sleeves are a little billowy but not overly so. A tie front exposes nothing thanks to a navy panel underneath. The dress falls to the knee.
Overall this peasant is pleasant. Not quite my style but recommended for others. Two stars off for the sheerness and substituting poly for silk.
Style #: 26118869; blue motif (049)
I'm not sure what happened with the
Bourgeois Dress
($298) but something was clearly lost in translation between the time the online model product shots were taken and the time the dress went into production. The back is the front! The front is the back!
Cats and dogs living together! Mass hysteria!
When I got home and was editing these photos, I wondered if perhaps I'd tried the dress on backwards by mistake. No, and here's why: the dress has a back zip. As does the version the model is wearing at the top of this post. Which means at some point someone decided that instead of a high scoop neckline this dress should have a modified v-neck.
Problem is, someone forgot to edit the design. It
felt
like I was trying the back of the dress on. I tried on a small because the store had no more of my usual mediums left. I felt squeezed through the chest but even had I been in my usual medium the dress would have looked wonky from the front. The neckline is too high and it widens the chest. The sleeves are much tighter than on the model. The skirt portion is lovely, cascading in gentle pleats down to the knee. It's a silk frock with a silk lining which is nice and expected at such a high price.
I can't endorse this dress -- there's a huge design issue here. I don't know who decided to swap the front for the back but I wish they'd left it alone. Bummer. Back to the rack.
Style #: 26465914; black motif (009)
I love Tanvi Kedia's designs and was very excited when I saw the
Farsi Embroidered Shift
($198). As in could not wait to try it on abandoned walking around the rest of the store and took my pile to the fitting room immediately excited! So ugh, what a letdown this dress was! I'm not quite sure what the problem is but hi I'm roxy and this is my sad sack of a dress. No shape whatsoever. Pockets? Yes. Shape? No.
The pattern on this dress is gorgeous! Now I understand why you don't see the model head-on though. That gorgeous pattern is very widening. I felt like I was wearing a rayon sandwich board. Vertical blocks of pattern are no friend to curves. The v neck is darling and the knee length is perfect. The pattern however is trouble.
I tried on my usual size medium before my internal sad trombone played. What a bummer the fit is. Belting this dress won't work -- there's no way I'd be able to preserve the pattern on my curves. So instead I sadly took this dress off, admired how lovely it is, and sent it back to the rack.
Style #: 26942649; navy (041)
The
Lombardia Pencil Dress
($148) looked very cute on the hanger. On me? All kinds of wonky. The dress is a rough polyester that feels like terry cloth with all sorts of bumps and nubs. It's also very bodycon which is no delight when the shape competes with curves instead of complimenting them. How does the v-neck cap sleeve combo which looks so nice on the model look so god awful on me? I felt like I was wearing some cross between an off-duty naval attendant's wear and a Star Trek uniform. Tiny peplum flares on the front have cute white accents. I like the white waistband.
I do not like the fit. A 6 was unworkable so it was up to an 8 I went for these photos. And let's be honest, the 8 looks pretty bad too. I can't quite explain it. The shoulders are standing off my body, the skirt is too tight and the peplum accents are helpfully pointing out that my lunch was just starting to digest when I took these shots. (Damn you City Bakery and your tempting treats!)
This dress is supposed to be flattering and ladylike. Instead I feel like a lump. Boo. Pass.
I had better luck with some of Anthro's other latest dresses. I'll have those in the next reviews set! If you'd like more dress reviews check out the
Reviews label
, or visit
this set
from last week. Have you tried any of these pieces on? What did you think? Do you own any of these dresses? If so, how are you styling them?