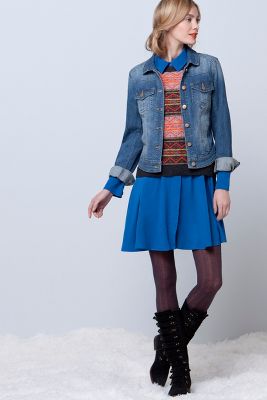 The Dakota Shirtdress ($128) certainly looks cute styled. How does it look on its own? Let's find out...
Back today with more reviews! As we get back into the swing of things let's take a look at some dresses.
Style #: 26496836; blue motif (049)
Note: If you're wondering my sizing measurements/height/etc, they're detailed on this page.
Although I have pledged against buying any more strapless dresses I do enjoy trying them on. Especially designs as pretty as the
Skyward Dress
($168). Anthropologie seems to incrementally improve the bodice fit on their sweetheart necklines. This latest version now has four rows of bustline pleating, a bevy of Wonder Woman-esque panels in the front for fit assist and winged pleats emerging from a stretch panel in the back. There's no boning but the top does have some sense of structure. I could never go braless but I think smaller busts probably could. The back comes down lower than I'd like, making even a strapless bra a dubious possibility.
The dress is treated cotton with an amazing rooftop and skyline print. The clouds are not so photographic to be distracting -- from afar it looks like fluffy swirls of grey, black and white. The black sash is thin but ties nicely and it the perfect accent color to pop off the blue. There's an acetate lining in the skirt and a concealed side zip.
For awhile an 8 had been the better fit for me in Moulinette Soeurs -- that's one size up for me. But it seems as though this dress runs large, or that I've slipped back into my usual size 6 in even strapless dresses. I tried on the 8 for the photos above and while it's not overly big on me the bodice was sitting off my chest. It was hilarious in the dressing room! The shakes from my laughter caused many blurry photos. The longer knee length is much appreciated on this frock. The skirt is perfectly A-line, not drifting too far from the body or coming in too close. This dress does come with straps but let's be honest: they're not much help.
This dress is gorgeous and fun, but a pass for me. More halters and tank dresses please Anthropologie!
Style #: 26320424; moss (031) or blue (040)
Somewhat recalling the D'Armee Dress of a couple of years back (jog your memory
here
), Maeve has issued a military-inspired rayon frock called the
Dakota Shirtdress
($128). This dress is...confusing. Oh, the shape is simple enough. A gathered waistline brings together pleats on both the top and bottom. But man there is a lot of fabric!! Tons in the front. Tons more in the back. The dress feels
heavy
. Oddly, the sleeves are really tight when rolled and tabbed. I could barely drag them up my forearm to the proper position.
I tried on a medium which is clearly too big. Way too much extra material. But I fear the sleeves in a small may be too tight to work, so caveat emptor. I'm pleased with the knee length and even the pocket placement is alright. The front button placket is covered by a strip of fabric and I like it. The waistline is made for belting. The sleeves are very loose in the upper arm and fine when unrolled, though as I mentioned above they become very tight when tabbed.
Perhaps it's the drab moss color that's turning me off? I like the blue from the model shot at the top of the post so I might head back to the Soho Anthropologie to give it a whirl.
Just enough structure to slide by, but lots of extra material. Likely a pass for me.
Style #: 26269167; navy (041)
I know the Anthropologie website declares that the
Geo-Burnout Velvet Dress
($148) is by Deletta but the Anthropologie website is a lying liar who lies. It's actually by Meadow Rue. This alpha-sized velvet dress has a beautiful modified v-neckline and sleeves in that super-annoying bust-even length. A gathered waistline leads to a tightly pleated skirt that's got a touch of flare. The navy color reads as almost black in most lights.
This dress has a back zip you probably won't need to use because the poly material is very stretchy. I got a size small on pullover style with no issues. The stretchiness also means the dress runs large, allowing me to trade in my usual size medium for the small you see on me here. The medallion pattern across the bust may be the only tricky part; size down too much and it will stretch to an unflattering degree. I think that part was OK on me but I do worry that the sleeves look a little pulled over my still-flabby upper arms.
On the plus side this dress is very comfortable to wear. The velvet is warm but the short sleeves kept me from overheating. I would have loved to see a long sleeve version of this for winter. Alas, we'll have to make due with this seasonally confused wannable Spring frock.
Pretty design and a flattering fit. Beware the stretch! Wishlisted for reconsideration at sale time.
Style #: 26223024; blue motif (049) or black motif (009)
You may be wondering where the
Caledonia Cutout Dress
($138) gets its name from. The cutout is there -- it's just
in the back
. It's high enough that you can wear a regular bra much to my relief. Plus this dress has pockets! Big front slant pockets that don't add much bulk. Score! I was more drawn to the blue motif version of the dress in-store. I like the neckline though it plunges a drop lower than I'd like.
Sizing-wise, the one you choose will depend on where you want the skirt portion to hit. I'm in my usual medium above. It's a bit loose up top and stands off my neck and shoulders a bit. But I like how it hits across my knees so I prefer it to the small which fits closer to the body but is shorter. I think many of us will end up between sizes. The poly material has a sturdy but not stiff feel to it. I do fear this dress may fade a bit over time.
Pleasant enough but nothing too special to me. Waiting for sale.
If you have a review request let me know in the comments. Do you own any of these items? Have you tried any of them on? What did you think? How would you style these pieces?