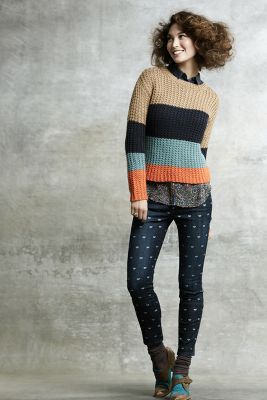 In this set I try on pants that have flowers, little hearts and tuxedo stripes. It's just as embarrassing as it sounds.
Note: If you're wondering my sizing measurements/height/etc, they're detailed on this page.
It's no secret that I'm not into patterned pants, mostly because patterned pants are not my friend. Still, Anthropologie's pushing their
Charlies
heavily so I thought I'd give a couple of pairs a shot. First up are the
Miniflora Charlie Trousers
($118). If you're a J.Crew fan this particular style of Charlies is much like the Cafe Capris. They have the same front and back welt pockets and come to the same point on the leg -- above the ankle, below the calf. There are differences too. The bottom of each leg has a small side vent and in the back the belt loops cross in an "x" shape -- a cool little detail. At the very top of the pants a small band of solid navy breaks up all the floral.
Normally I'm against a loud pattern like this but it actually works in my favor. The navy base is like any blue pant and then the bold yellow, pink and other tones help to suppress my curves a bit. Cotton-spandex material allows for just a bit of give. They hug the body closely. The print doesn't line up at the sides but it's such a vivid pattern that I didn't find it off-putting.
I was able to shimmy into a 10. They sit just below the natural waist. I was pleased that there was no gap in back while standing and just a small gap when sitting. I can't say how these would be over the course of a day but if Pilcros are any indication they'll stretch considerably. I am impressed by how slimming these pants are though the cut is just awful on someone like me with thicker legs. A pair of heels would help lengthen the leg line but I'd prefer a straighter cut down the entire leg.
If your legs are lean these pants would be great fun! I'm not a fan for myself but recommended for others.
Style #: 26527747; ivory (011)
The other Charlies I tried are the
Tuxedo Stripe Charlie Trousers
($118). As it turns out, each style fits a little differently. These pants are the same cotton-spandex material as the Charlies above but these have side slant pockets with the back welt style. There's a neon yellow and coral stripe down each side which I find very fun. It's like dressed up khakis. No leg vent on this version.
Compared to the last pair, these Charlies run small. I was able to get the 10s on and zipped but I wouldn't kid myself into thinking these look alright. Far too tight. So go up a size in these if you like to breathe. Like the other pair these sit below the natural waist with not too much gap in back. That's a good thing. The Minifloras come in a tall (petite too) but these only come in petite and regular.
The prepster in me likes these pants. I don't have the shape to pull them off though. Pass.
Style #: 26248096; ignite (094)
I tend to stay far away from J Brand and their narrow cuts. The
Brocade Marias
encouraged me that sometimes this brand works, so I gave the
Rail Skinny
($174) jeans a shot. And what do you know? These jeans worked too. They have a much more generous cut around the hips and rear than standard J Brand and plenty of stretch. The style name is really deceptive!
These jeans have a decent rise in the back which is always my biggest concern. Anthropologie says these are 30.5" long but I don't believe it. They do remind me a lot of AG's Stilt jeans. I love the indigo blue color of these and the brass accents. There's some light whiskering which I'm not as fond of. I found my usual J Brand size 32 to be really loose, so I'd go down to a 31.
Easy, stretchy, nice to curves. A winning combination in my book! Wishlisted.
Style #: 26135939; dark knight (001)
What is the deal with ankle jeans and why is Anthropologie so obsessed with them? I feel like I'd grown out of the
Pilcro Stet Slim Ankle
($118) before I'd even tried them on. They hit right at that odd length where the hem floats above your ankles. On a tall with curves like me this isn't very flattering.
The pants have an awesome high rise (9" in the back -- yay!). The black color is actually more of a dark grey to me or a faded black if you prefer. The leg cut is straight with give through the hips and thighs. Pilcros tend to stretch a lot. I found a 31 pretty loose on me to begin with so I'd go down to a 30 to buy. The cotton-spandex-poly material is a medium weight and feels very comfortable on.
If only these came in a tall, or at least a 34" inseam. Too short for me so they went back to the rack.
Style #: 26245878; heart dark blue (093)
I adore my curves but they never betray me more than when a pant has a small pattern. So I'm somewhat enthused that the
AG Stevie Ankle Hearts
($188) don't look too bad. That probably sounds like faint praise but here's the thing: I looooove AG Jeans so much but the Stevies hardly ever work on me. These came close.
The pant is a dark blue cotton-polyureathane mix with light blue hearts stamped on them. Perfect for Valentine's Day maybe? At 31" they're short, though not as short as the online product shot model would have you thinking. They hit just above my ankle and the tapered cut made them look more realistic on me than the Pilcro Stets above. The real trouble for me lies in the 7.25" rise which just barely clears my butt. When I sit down it's not a pretty sight from the back. The back pockets are also smaller than I like.
I found my usual 31s to be fine in the 'waist' -- these sit a good inch or two below the waist for what it's worth. They were a little loose but I wouldn't size down because the 31s fit over my legs with little room to spare and I'm not sure the 30s would clear my thighs.
Adorable? Surely. I'd love to see the Premieres with hearts on them!!! *crickets*
If you have a review request please let me know in the comments! Have you tried or purchased any of these pieces? What did you think? How are you styling them?