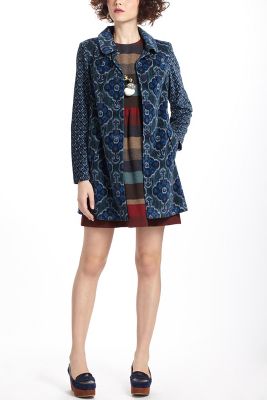 I've got a few mini-review sets on the way. Let's kick things off with a couple of coats I recently tried on and loved, loved, loved.
Style #: 25445263; grey (004)
Note: If you're wondering my sizing measurements/height/etc, they're detailed on this page.
The
Gresham Stitched Coat
(now $180) is a beautiful light grey quilted coat. I'm going to vary quite a bit from the two reviews on the product page because I think this is a fantastic topper! True that it is not very thick -- it's lightweight both in feel and warmth. It does block the wind very effectively but there's no down or heavy lining inside. So while this looks like a winter coat it's meant to be worn on either medium temperature days (think 50s to low 40s Fahrenheit) or with something very heavy underneath. As a kid who was always all about winter layering this is fine by me. But if you're thinking of purchasing this as your main winter coat you're going to be disappointed.
The coat is made from rayon, wool, nylon, polyester and has a cotton lining with a beautiful floral print. It has a hood and a snappable neckwarmer. Big brown buttons are covered by a double-layered placket. In the back there's a small vent to the tulip-shaped hem. The sleeves are long, perfect for pulling down over gloves. Both reviews on Anthropologie's website noted that this coat is itchy -- I felt
zero
itch. Granted I'm itch-tolerant but I expected to feel a bit of an itch given the reviews. Nope. Nothing. The coat is coarse but the inside is decently smooth. Itch may be a factor if you're sensitive.
This coat runs quite large. I'm an 8 in Elevenses coats usually but that was way too big on me. So it's down to a 6 I went, though that is still plentiful large. This coat does have some shaping at the sides but it's mostly a cocoon of sorts. Not exactly body-hugging. Here's what I love: this coat is very easy to dress up or down. I've worn this on my dog walks over jeans and boots. I've worn this out to a client party with my dress underneath. I've worn it to a fancy restaurant. (Of course I took it off inside but we did have the glam coat check moment.) It's very versatile. I would also wear this over my ski sweater around the resort town. I see so many possibilities for it and I see the light weight as an advantage, not a disadvantage.
If you have room in your closet for one more coat, I can't recommend this versatile topper enough. Came home with me during last week's 25% off sale promotion.
Style #: 26135657; blue (040)
With the
Indigoflora Velveteen Coat
($198) it seems as though Anthropologie dug into its archives to re-release a classic. I couldn't be happier! In talking to a SA at the Chelsea Market Anthropologie in NYC this coat was apparently released several years ago in a red version. I dug around to locate a photo but was sadly unable to find one. I believe it though. Part Grandma's couch and part 70s bathroom tile, this super soft velveteen topper is the perfect fashion counterpoint to the modern, sleek stuff I like to wear underneath. I envision it with maybe a mod dress and tights underneath with a cloche to polish off the look.
Wrapped buttons in a similar color tone run down the front. There's a line of pleats set off the shoulders in the back. The sleeves run pretty big and hit at the top of my hands. I like the cute collar and found the coat to be a good length, ending a couple of inches above my knees.
Like the Gresham coat above, this jacket runs very large. Once again I found a 6 a better fit than my usual 8. It's pretty boxy although I don't expect a ton of shape from sweatercoats. From the looks of the pattern on mine versus the online shot it seems as though the pattern is set by design rather than different from coat to coat. Yay to that! This coat is not itchy and best of all, it's machine washable.
I'm sure this coat will be a love it or hate it kind of item, but I'm glad Anthropologie took the risk of putting this coat into production. I hope it sells well -- it has the right mix of vintage and offbeat without going too far. What can I say? I'm a sucker for these warmer blues.
A challenging coat that's well worth the effort. Wishlisted!!
One quick programming note -- Anthropologie's wonderful community team reached out to me yesterday to let me know that the
Gifts Catalogue
we discussed
in this post
is in fact the only December Anthropologie catalogue. I'm really surprised! Although I like it, I miss the outfit looks we're used to seeing. I'll be updating the
catalogue Eye Candy post
to note this. What do you think of this decision?