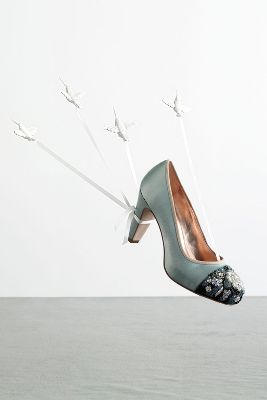 Today on EA we'll be looking at Anthropologie from three angles: the products, the business side and the catalogue presentation. Since I've been harsh on the items recently I thought it would be nice to start this morning with a discussion of what Anthropologie has been doing well.
After a promising summer, Anthropologie's Fall 2012 line was very disappointing. They lost all forward progress on shape, fit and in some cases design. While the catalogues continue to vacillate between awesome and awkward, the
new arrivals on Anthro's website
are once again starting to delight. I'll start off by talking about some of my favorites and then I'll hope you'll share yours (feel free to link!) in the comments so we can help Anthropologie realize what its loyal customer base wants to see.
After too many too-short minis and shapeless sacks, Anthropologie has clearly returned to form in the dress department. The fit isn't quite all the way back yet -- too many short-waisted frocks. But I am happy to see more knee-length fit-and-flare dresses, and dresses below the knee have more flattering shapes than we saw 9 months ago.
Even dresses that look a bit questionable to me online, like the
Carmindy Dress
($168, review this week), have been delightful in real life. It's a great sign. Now that the designs are looking good I hope to see improvement in the materials area -- silk over poly, higher-quality tencel over rayon, jersey with cotton instead of rayons or spandex. I have no problem paying $300 for a beautiful dress. I have a
big
problem paying $300 for a polyester, cheap-feeling dress, no matter how beautiful.
In the tops department I'm most pleased to see Anthropologie return to the shapes and designs that we know and love from them. Items like the
Puckered Placket Turtleneck
($58,
review
) say Anthropologie from miles away, are flattering to wear and feel special even in their simplicity. And while yes I do expect to see peasant tops at Anthro it's great to see the shapes reined in from super duper trapeze to the flowy yet still shapely
Meteor Flare Peasant Blouse
($128).
When Anthropologie does take on trends it's nice to see items with a spin on them like the
Here & There Tee, Animals
($48) and the
Flora-Spliced Chambray Buttondown
($88,
review
), which I can't shut up about because I like it so much. This offbeat take on the trends is precisely what I hope for when I come to Anthropologie. You can buy a chambray shirt anywhere. You can buy a polka-dotted top anywhere. I want something special.
In the sweater department Anthropologie is saving its best for kind of late in the season. No real complaints from me though -- I'm loving the mix of shapes and textures this year. While I'm disappointed that there's still so much acrylic, I'm happy to see more wool and thicker sweaters than the climate-affected thinness we got last year. Anthro's especially rocking it in the sweater coat department in my opinion.
I've been largely ignoring Anthropologie's shoes lately but I'm happy to see delights like the
Bijou Toecap Pumps ($168), which make me want to take another look. Love the sturdy heel, the bright color and the fun toe design. Now if they would just make narrow and wide-calf boot options...
These are some of the newest Anthropologie arrivals I'm loving. Which items have caught your eye online or in-store? What have you tried on and loved? Any recent purchases that make you feel like the classic Anthro is coming back? Or are the designs still lacking to you?