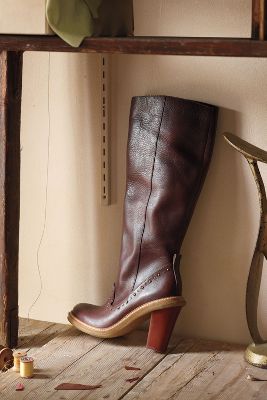 Temptation in boot form.
Come fall and winter the streets of NYC become one big, slushy, smelly mess. Nothing really makes you feel clean besides a nice shower but to help keep yourself a bit fresher during the day an elevating pair of boots works wonders. Suddenly above the mess and feeling great, a good pair of boots is an instant pick-me-up. Each fall Anthropologie unveils a great line of boots and each fall I find myself happy with the short offerings and disappointed by the tall offerings, which never seem to take anything besides "normal" calf widths into consideration. I've got one pair of tall and one pair of short in this set.
I'm going to keep complaining about calf widths because it's total bullshit. If J.Crew, Madewell and
Eddie Bauer
can offer wide calf options, why can't Anthropologie? Even Frye has wide calf options on their website! (Although their definition of wide calf is...let's say unrealistic.) Nordstrom, Endless (RIP), Zappos, everyone has wide calf options while Anthropologie continues to put their nail-art adorned fingers in their bestudded ears and chant
lalalala
while traipsing through the forest of denial. Cobbling isn't an option unless the boot is full leather inside and out which these almost never are. Little triangle stretch panels are not the same as an actual accommodating calf and really why should someone be punished for being athletic?
Here's a shoutout as well to our narrow calf friends, whose silent suffering of endlessly slouchy boots goes unrecognized. Although your plight is alien to me I feel for you too.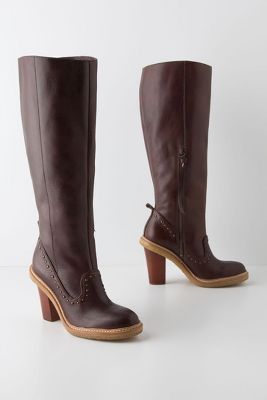 STYLE # 24686164; brown (020)
I just adored the catalogue styling of the
Cherrywood Studded Boots ($298) and was cautiously optimistic after the website listed the calf circumference at 16". Although that's still a little less room than I need I often find that trying on a larger size yields enough space for my legs to fit.
These boots are by in-house line Schuler & Sons. They've got plenty of 70s touches, from the overlaid shape of the foot to the line of studs to the rubbery crepe soles and wooden heels. The soles get plenty of traction when you walk but are also very susceptible to damage -- the pair I tried already had a small triangle of sole missing. While the color of the leather is beautiful and rich it's worth noting that there are lots of striations of lighter brown as you'll see in the shots below. It's not a uniform color and as the boots wear I think they'll patina into a lovely mix of light and dark. That might not be to everyone's taste.
Unfortunately there are no photos of me in these boots because even after sizing up from my usual 9 to a 10 they still did not fit over my calves. I measured the calf and got 15.9" around the outside of the size 10, so I really don't think these are 16". Boo. Instead, some shots below of the boots sans foot. While the website claims these are true to size, I almost always have to size up in Schuler & Sons and felt a 9.5 would be the best fit for my foot. In the 9 my toes were right up against the wall of the boot.
The leather on these boots is a little stiff. Inside they're lined for comfort, and a half-zip toward the foot helps when taking these on or off. The heel is significant at 3.5" but felt easy to walk around in. The footbed is padded very lightly but the rubbery sole makes me think these would be comfortable all day. There's no noise as you walk around these -- it's nice not to have that clomp or click.
Here's a closeup of the zipper, which has a long leathery pull that would be an irresistible temptation to my dog. All of the metal accents are bronze-toned, including the studs. The sole really stands out in its lighter brown color.
And here is the bottom of the boot. Note the non-uniform nature of the crepe sole. It's going to peel and come apart over time, though I suppose no more than any other type of sole. I like how thick the sole is; I think it will protect the boot from water in shallow puddles.
These aren't classic boots but any means but I do think they'll stand the test of time well. The sole will likely need replacing after a couple of years though. I'm annoyed that they didn't fit, but I can't deny they are lovely.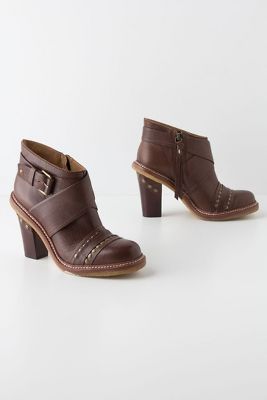 STYLE # 24685422; brown (020)
Perhaps the more modern cousin to the boots above, the
Studded Strap Booties ($258) have a great mix of tough and feminine elements. I love the thick strap over the arch and the studs across the vamp and heel. They feel a little 90s with the sloped top while another crepe heel brings it back to the 70s.
I sized up to a 9.5 for the best fit. I envision wearing these boots with a pair of skinny jeans -- not my bare legs. I felt like these boots made my foot look bigger than it is, mostly because of the way the toe is so curved out. And while the website claims the heel of these boots are the same as the heel of the Cherrywood Studded Boots, these shorties felt taller! I think the heel might actually be 3.75".
Like the other pair of boots I tried on, the leather is not a uniform color on these boots either. It's mostly dark brown with some hints of lighter coloring showing through. The studs across the vamp are partly obscured by a thick strap. On the inside of a boot is a zipper for access with the same long, leathery pull as its taller cousin. A buckle lives on the outside of each boot.
The heel is stacked wood with a studded leather panel affixed. And that same light-colored crepe sole makes these a silent stalker, which I appreciate. They were incredibly comfortable on and I decided to buy them.
I did not, however, buy them when I tried them on and here's why. I so appreciate that multiple NYC Anthropologies carry shoes. I realize it's a luxury and I'm happy to be afforded the opportunity to try the shoes on. But I've had such terrible service when I want to try on shoes...I've said this before but Anthropologie really needs to rethink their in-store shoe service.
Here's what happened: I was at Chelsea Market which recently flipped its layout. The shoes used to be in a heavily-trafficked part of the store which was good because it was easy to grab an SA for a size run but probably also bad because it was constantly messy. Discarded shoes here, floor samples strewn over there, shoppers are messy, etc. So the shoes have been relegated to a desolate corner where few SAs dare go.
The day I wanted to try these boots I waited. And waited. And waited some more. Probably about 5 minutes which is an
eternity
in shopping. No SA came within the area. Finally I asked the door greeter if she could flag someone for me. She paged someone on the walkie. And then I waited.
A girl came by to deliver a size to someone else. But instead of helping me, she avoided me and walked away. I was incredulous. I chased after her and she said someone else would have to help me, because the hour had just flipped and she was no longer on shoe duty. What the what? Had the store been busy I still would have been upset but would have at least understood. But there were a grand total of three people in the store and probably 7 SAs. Seven SAs all avoiding shoes. She said she'd grab someone else, and I plopped onto a couch to wait.
And then I waited. And waited. And waited some more. And then I waited some more again. I probably should have left but I really wanted to try the boots!
So now I've been waiting about 15 minutes. To try on shoes. The woman who had formerly been the door greeter finally saw the smoke signals rising from my ears spelling angry epithets above my head and came over to ask if anyone had helped. And then, although it wasn't in her duties for the hour, she grabbed my sizes.
Holy crap, Chelsea Market. I normally receive exemplary service there. Not this time though. And it's the same story at Soho when you want to try shoes. At least at Rockefeller the shoes are right there in closets. Though I'm sure I'm not supposed to I usually just grab my own size if no one's there to help. But at Soho and Chelsea they have to run into backstock to get the shoes and it takes forever. I think a self-service model makes more sense. Whatever the change something needs to be done. It's way too hard to try on shoes right now. And time consuming. If there's one thing New Yorkers don't have, it's time.
What do you think of these boots? Have you tried either pair?