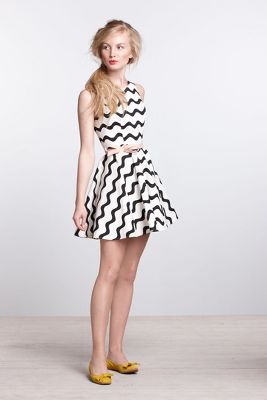 This outfit is: So. Darn. Cute.
Note: I updated my review of the Given Then Gathered Column Dress ($128) to include photos of the striped version.
The Beguile Made in Kind pieces are some of my favorites. I hoped they'd show up in one of the NYC Anthropologies and they did in the unlikeliest spot: the Upper East Side location. I made the trek up to my former neighborhood on a quiet weekday to try on the
Wilderflora Patchwork Maxi Dress ($280). Of all the pieces this is the one I was most unsure about -- it's got a tricky halter top, a high waist and a straight skirt. The materials feel like silk but are actually poly. There's been a lot of community disappointment about this. In my mind poly is more realistic for this price range considering that the designer version of the collection costs over $600 and is still poly. You win some, you lose some.
There weren't many size options left in the store. With the help of a SA we managed to find a 6 in backstock. I would have preferred a size 8. The 6 was very tight up top and this dress is supposed to have a loose, easy feeling. Still even in the wrong size I could I also didn't realize that the black box around the main skirt panel is actually mesh like the halter, so it's see-through. The dress is partially lined -- the lining ends mid-thigh. A curious choice. The glorious but bra-unfriendly back calls a corset-style bra. So this dress is tricky but well worth the effort in my opinion. I'd love to grab this dress on sale.
Next week I'll review the
Wilderflora Patchwork Racerback ($114), which came home with me at full price. (I fear it will go on sale on Tuesday, right after my PA window ends.)
Sexy it is, luxurious it ain't. The
Coral Lace Dress ($228) is a just a jersey tank dress with a layer on non-lace over it. I'll let someone from Anthropologie justify the pricetag because I'm not defending it. This dress is also very 90210, original-version to me. Straight out of 1993. All I need is a choker, heavy black eye makeup and clogs and I am so going back in time.



I tried on a 6 -- I've found other HD in Paris dresses to run large but this one is bodycon. And short! The tank layer barely makes it to my fingertips. The non-lace comes down a wee bit further. The dress was a real pain to put on. The tank dress gets twisted really easily and the overlayer has very little give. I'm all for feeling sexy but this dress felt cheap on. It's too short and revealing to feel elegant. Not a winner for me. Pass.





Waves Skater Dress ($198) by Ellen Van Dusen, TTS
style #25106865; neutral motif (015)
★★★★☆ for design, ★☆☆☆☆ for zipper
Anthropologie has a zipper quality control issue. When I saw the

Waves Skater Dress ($198) in-store, two of the dresses in my size had a busted zipper on the rack. When the SA pulled another for me from backstock, she mentioned that one back there had a busted zipper too. Two of the online reviews mention the same thing. What is going on? This item is not alone in zipper hell -- this problem extends back at least a year and I wish Anthro would take a long hard look into fixing it.



I tried this cotton dress on in a 6, which fit fine. Close across the bust but wonderfully nipping in at the waist. I wish the skirt was longer but I like the voluminous, playful vibe of it. But who would pay $200 for a dress with a non-working zipper? Not me. Wishlisted but I would not buy this dress unless it was on super sale.






I'm about to be harsh on another Made in Kind design. Tracy Reese's Revisited Impressionist Bow Dress ($298) is pretty delightful but also has a big quality control issue -- the lining is too long in the front. I thought it was just the dress I tried on at first. But nope. I've spoken to other people who experienced the same issue. You can see it peeking down in the shot on the left above. How does this make it to the racks?!? A perfectly nice dress that costs $300 with a lining that's too long. It's nuts!



The pricetag is due to the viscose/silk mix that makes this dress. It's a simple side-zip shift with a gigantic shoulder bow. The impressionist digital print is gorgeous and set on a bias which flatters. The top portion comes low, showing off some decolletage. I found a medium worked fine aside from the visible lining issue. It can be fixed by a tailor easily for another $10. I'm just annoyed that step is required. Pass.





I recently reviewed this dress's cousin the

Revisited Impressionist Dress

($298)

in this post

.





The Elvia Dress ($258) is deceptively body-hugging! On the rack I expected this Made in Kind collection dress to be somewhat loose but it hugs the body wonderfully. Of course it hugs that body mainly at the midsection and for me that meant sizing up. And up. Not from a 6 to an 8 but from a 6 to a 10, the same jump I make for shifts. It's worth it though. The top has a beautiful drape and is equally stunning from the back. I love the green underlayer topped by a crocheted aqua medallion layer. It's kind of 80s but rendered in a modern way.



You see an 8 on me above and as mentioned I'd buy this in a 10. The top portion of the 10 was dangerously loose at the already wide neckline -- I'd want to add clips for my bra to keep the blouson from going anywhere. I can't decide if this dress is work-appropriate or not. The length is fine, hitting at my knees. But I feel like even a casual office could be distracted by the color palette. This might be a going out dress for all but the most fashion-forward offices. I would love to make this a summer date dress. I'd pair it with my coral and black

Tibi Ambers.

Wishlisted!





Am I alone in thinking the Vinca Minor Dress ($178) would be a darker purple based on the catalogue shot? The royal purple tone isn't a dealbreaker but I was expecting something richer and darker with more blue undertones, while this is closer to grey. Still there's no denying the dress is lovely. I am a big Weston Wear fan and this dress doesn't disappoint. It's a cotton dress with a lace overlayer and lots of unexpected details. I love the tiny sash waistline, with it's simple strip of velvety goodness pressed into a piece of lace and tied in the back. The skirt is actually a plaid print, which I have a detail shot of below. I love the tank-style top and the knee length. (It grazes my knee tops, I'm 5'8".)



I found a medium to work well with one note: the top was a close fit. It zipped up fine but I certainly felt locked and loaded. I'm a 34D and ladies with larger chests may need to size up. This dress emphasizes my tiny waist for which I thank Weston Wear. It's cute and seems well-made.





Here's a shot of the skirt, which is three layers: a lining layer with crinoline, a plaid layer and then the top lace layer. The plaid is very cool and subtle from afar. I love this dress and there's a good chance it will come home with me next month. For now, wishlisted!

Coming up later tonight: one last review set featuring two pairs of shoes. Requests? Let me know in the comments! What do you think of the dresses in this reviews set?