It's been quite a while since we delved into the topic of
Anthropologie's website
design and functionality. Now seems like the perfect time to discuss it again as Anthro makes some significant changes. I'll start with my thoughts and then please do share yours in the comments.
THE MAGAZINE AND ETYMOLOGIE
Let's start with something I like (a lot). For years this community has been asking for a better behind-the-scenes look into Anthropologie's thought and design process. We hoped that by learning what inspires Anthro's design team we would better understand the products. In the offline world Anthropologie increased store events significantly last year though that sadly seems to have died down. Online however Anthro has done a wonderful job of giving us some glimpses behind the curtain.
First, they created their own tumblr called
Etymologie
. Though tumblrs can seem superficial at first glance Anthropologie has done a great job of incorporating the voices of staff, outside designers and fans into their weekly themed posts. Each post is a simple photograph and description that collectively forms the natural tale of what the team is thinking about.
Over on the anthropologie.com website, a new section called
The Magazine
launched a few months ago. Just as it sounds this is a repository of mostly short articles written by Anthro staff (or their marketing team). Interviews with designers both in-house and out; fun little outfit vignettes and even a few interactive queries seem like a friendly conversation between friends. I'm digging both this and Anthro's tumblr a lot. Nicely done, Anthropologie!
DRESS FORM SHOTS VS. MODEL SHOTS
For years, Anthropologie's site has featured their products on dress forms. Consistent, identical dress forms. Sometimes catalogue photos would append the dress form shots but mostly it was mannequin after mannequin. A couple of years back Anthropologie tried switching over to model shots and the outcry was almost instantaneous. So they retreated, grumbled about it I guess, licked their wounds and waited for the opportunity to try again. About nine months ago pants went from magical floating bottoms to modeled products and now we're suddenly transitioning to everything on models.
You probably already know which side I land on since I've been pretty vocal about it. Let me back up and try to be a bit more objective. One thing I like about the model shots is getting a complete outfit suggestion in picture form. It's been wonderful to see how Anthropologie's visual team styles each item. It's given me some great outfit ideas already. A couple of weeks ago in
my review
of the
Woven Window Top
(now $40) I so smitten by the model shot below I ended up tracking down the pants and the shoes too.
Below is that shot plus a few more of my favorites: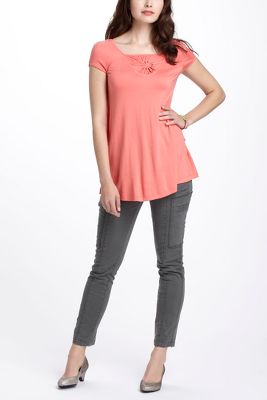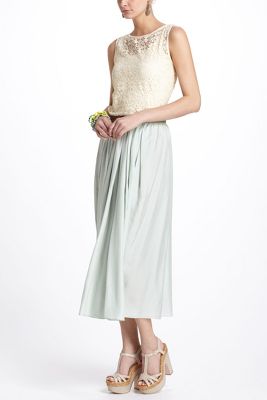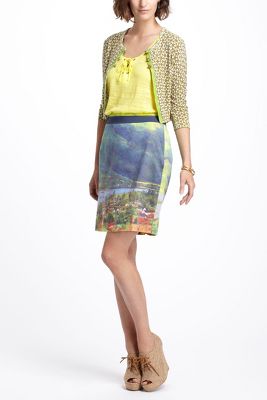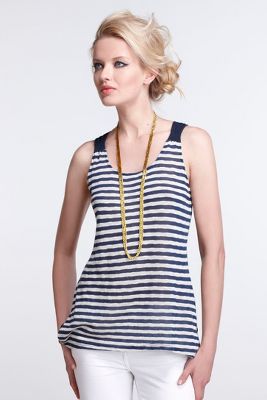 The
Undergrowth Tank
($68, reviewed here) and the
Pyxis Necklace (now $30, OOTD here).
Those are just a few of the gorgeous outfit options Anthropologie is planting in my imagination. Not to mention ideas for hair and makeup. Anthropologie could further capitalize on this by creating videos with the makeup and hair artists explaining how they created the looks. Lord knows I love all the model shots with the
Undergrowth Tank
($68) and I'd love to know how to create the swept-back messy bun the model is sporting!
So yes, the model shots do have some advantages over the dress forms.
But I'm not a fan. There are so many things I dislike I don't even know where to begin. My biggest annoyance is that half the time the models are turned or folded or posing in such a way so that I can barely see the clothing. Take the model product photo of the
Netted Meridian Top ($88) further up in this post. The model's arms are folded and the shirt is cuffed. If not for the dress form shot I'd be sitting there thinking Is this a long sleeve top? An elbow-length sleeve? And then I'd probably give up in frustration and decide to seek it out in the store instead. That's not an option for everyone though. Or take the
River School Skirt ($98, reviewed here) shot. Yes, the model is posing cutely. Now could she please turn towards the camera so I could actually see the pattern on the skirt?
Another issue is that these models aren't sized or shaped like me. I know it's not likely that we'll see a 6-on-top-10-on-the-bottom model anytime soon because quelle horreur but in the meantime these lovely ladies are not busty like me or curvy like me and so these are even less help to me than the sometimes-pinned-wtf-Anthro dress form shots. I don't mean that offensively towards the models -- they're beautiful and wonderful and aspirational. They're just no help to me.
One last issue is that while these outfits are awesome, they often feature complementary products that are sold out from the website. Take for example the red motif version of the
Undergrowth Tank
($68)...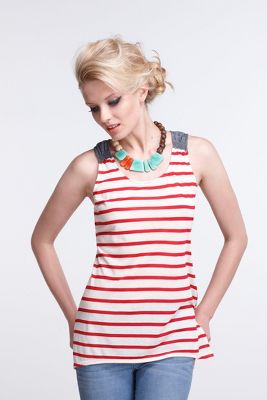 ...which has this gorgeous necklace shown with it. Now go the
necklaces page
on Anthropologie's site. Now try to find this necklace. You won't, because as of this writing the
Orinoco Necklace
($68) is sold out. Don't bother calling Customer Service either because they have no idea what these coordinating items are. You could probably email the
community team
who would likely be able to ID the item, but how many people know to do that? And unless you've got mad Google skills and an endless amount of patience to hunt down the names of Anthropologie items, you'll probably never find it and may instead end up frustrated.
Which leads me to my next topic.


UPSELL PRODUCTS DON'T MATCH PRODUCT SHOTS
On the right side of each product page you'll find four or five product thumbnails and the message "you might also like" above them. You know what I might also like, Anthropologie? If those upsells matched up to the products in the model product photos instead of just being random.
There has been some improvement here. On pages with catalogue photos I've noticed the upsells match perfectly. Bravo! Now I'd love to see that on the rest of the pages too. It is so annoying when I see a model shot with three or four coordinating pieces I'd love to buy and then find that the upsells are for four totally unrelated items. Hunting down the actual coordinating items is a pain. It's even worse when the coordinating items are on sale or sold out -- nearly impossible to find and headache-inducing. I realize this is hard when there are four or five colors of an item, each with their own upsells. Ideally the upsells would change as you click through each color.
I strongly believe that Anthropologie should have sold out coordinating items in the upsell boxes. No one likes a "we're sorry, this item is sold out" message but at least being able to see the product page allows me to call Customer Service to do a store search. As opposed to now when I do fruitless product searches, afraid I've missed the item while combing the product pages.
If only there were an easier way to find an item...like a search or something...oh wait...
THE SEARCH FEATURE IS NOT UP TO SNUFF
Sorry to be so blunt but whoever refactored the search on Anthropologie's website with the last big redesign did not live up to my expectations. Search by category (i.e. jeans, skirts) works OK but try searching by many other common terms (i.e. yellow or tank) and you get incomplete, often unhelpful results.
Maybe the real problem here is the database structure. It feels like some attributes that were tracked before got dropped, maybe to save table size? I'm not sure. But ideally if I were coding this site I'd use a no-SQL backend like Cassandra or Mongo and tag each and every single product with tons of details.
Let me give you an example. We'll use the
Vinca Minor Dress
($178, reviewed
here
) as our product.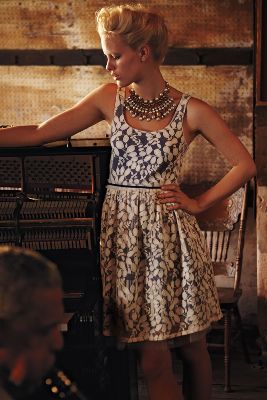 This is a lace dress in purple motif by Weston Wear. Right now this dress comes up if you search "Weston Wear" or "Dress." But try searching "
lace dress
" or "
purple motif
" the dress will not show up in the results. So if I were writing the database, I'd tell Anthropologie,
hey guys we really need to start using tags on our product pages. They're easy to index for search and familiar to just about everyone in the age of Facebook and Pinterest.
Then I'd tag this dress: Vinca Minor Dress, Weston Wear, purple motif, lace dress, and any abbreviations of those I can think of in case people search for "vinca" but not "minor", etc. I'd also include misspellings using an algorithmic plugin, since I keep wanting to call this the Vinca Manor Dress myself. And I'm sure I'd forget tags too, so I'd have a field where Anthro lovers could submit their own tag for approval. Then I'd build my search index to work off of both my database attributes
and
the tags. Voila! Helpful search.
Along the same theme, it's worth mentioning that many of the subcategories are incomplete on Anthropologie's website. Take for example in TOPS. Try drilling down to the "
tees & tanks
" subcategory and you'll notice a whole mess of products are missing. What's the point of having those subcategories if they're incomplete? Obviously this is magnified to me since I'm constantly searching for products for Anthropologie blog posts but imagine being a casual customer. You go to an Anthropologie store and see a top you like. You go home to research it on the Anthropologie website. You get to the tops page and you see a zillion tops.
Oh, how helpful! A drilldown into tees and tanks....wait, where's the tank I saw? Oh I guess it's not here. I'll go buy something else. Sadface.
HTML 5 -- PRETTY BUT NON-SENSICAL SOMETIMES
Yes, yes, HTML 5 is magical and how did we ever live without jQuery and OMG my page load times are down below a minute!
Alright that probably doesn't make sense to 95% of you. Let me try this another way. Have you noticed that when you click into a category, let's say Dresses, only the first 40 or so products load? And if you want to see more, you scroll down and get a little roundy thing until more items appear? That's a feature of HTML 5, progressive loading.
Let's play another little game. Go to the
Dress section
-- don't scroll down, just let it load the first bunch of items. Now hit CTRL + F do a page find and search for "
Under and Over Dress
" ($148, reviewed
here
). No results? Hmm, that's strange. The dress is still available...oh wait, it's because that dress hasn't loaded onto the page yet. Annoying.
I WISH THE WISHLIST WAS BETTER
Once again this comes with the caveat that I am a power user of Anthropologie's website so my annoyances are magnified.
Wishlists tend to be afterthoughts on retail sites so it's nice that Anthropologie even has one. As far as information goes I find it to be one of the most detailed and complete in-house wishlist features. Anthropologie deserves kudos for that.
Yet of course I want mooooorrrrreeee. Or more specifically, I want some things back that we lost. My biggest qualm is that you can no longer view all of the items on a specific wishlist of 50 items or more. You're forced to painfully slog through page after page (up to 9 of them!) to find that certain item. UGH.
Need to update items on your wishlist? You can only do it one item at a time...slowly...painfully...blargh.
Another thing that drives me nuts in the era of Popbacks is that you can't add a sold-out item to your wishlist. A product that is sold out today might be back in stock next Tuesday, yet I'll never know without some third-party service. Anthropologie is losing out on easy in-house conversions because of this.
While I'm dreaming out loud as I tend to do, it would be great to be able to tag items in your wishlist or search your wishlist or sort your wishlist. Or get an email when an item goes on sale. Or get an email when an item pops back. Just some thoughts.
CATALOGUES -- WE LIKE TO SEE THEM
Several of the unwelcome changes in the last anthropologie.com site redesign involve the catalogue. It used to be that each catalogue had it's own unique URL. So if I wanted to view, say, the August 2008 catalogue (one of my all-time favorites), I just go to
its own special unique page
on Anthro's site and digitally flip away.
Sadly, last year Anthropologie did away with unique monthly pages and now just rotates its catalogues among four URLs. So if you want to see the catalogue from 5 months ago tough shit. It's gone. Yes there are archives through Polyvore and blog posts but it's not the same. Bring back unique catalogue pages please!
Another change in the cataloguer is that you can no longer zoom in on any of the catalogue images. I have an iPad so I use the
Anthropologie app
to get around that (read more about the app
here
). But it would be nice to have that option on my bigger laptop screen. Pretty please Anthropologie?
PRODUCTS THAT DISAPPEAR AND OTHER BUGS
Every time a bunch of new arrivals hit Anthropologie's website, a disturbing pattern is followed:
The items appear online.
Several of the items disappear altogether or appear sold out on their product page.
Panic and confusion ensues in the community.
A few days later, those items are back in full stock.

I don't know what causes the items to appear, disappear, and then re-appear. But it's not a fun game. Another issue that sometimes happens with new items is the sizes don't populate. So I see the images on the product page, the name and style info but I can't select a size because the dropdown has no options. Which means I can't add it to my wishlist either. It's usually fixed in a few days but it bugs.

And let's not even get into the whole email issue. I know many of us in the community were receiving emails from Anthropologie and now we're not. The community team has been helping me on this issue so I want to see how it all plays out. But I know it's frustrating for many of us.

This post is just scratching the surface -- I'm sure I've left a few topics off. I turn to you community. What do you like on Anthropologie's website? What can they make better?