style # 24350217, grey motif (008), black (001) or neutral motif (015)
★★★☆☆

Note: there was no sale today and there will not be any markdowns this week according to community reports.
It's a mix of loungewear and items that seem like loungewear in this reviews set. First up, the incredibly soft
Asymmetric Throwback Tee
($38) from Bordeaux. I am all about looking cute while lounging around the apartment and I thought the "grey motif" (reads blue) version of this top would look great with the
Blue Rainer Shorts
($38). When I held the two items up next to each other in-store the colors seemed to match, though I make no promises that they do outside of wonky Anthro store lighting.
The top is slightly heathered and is not sheer. It's designed to hang off your shoulder via a wide scoop though I didn't feel inclined to pull it down in the dressing room. One side has a longer tail which cascades in a gently pleated way. As I mentioned in my last
tops reviews set
, here's another top that would work as maternity wear. Which makes me knock a star off my review because
come on Anthropologie
. What of us that are not expecting?
I started off in my usual size medium. The cut on this top is very generous, so I decided to size down to the small you see on me above. The short side of this top lands just a smidge below the waist, while the long tail trails right to the thigh. I wish it was a touch longer all-around. Many of the reviewers online have noted this top is slimming. I don't know about that but it is kind of fun to wear. I could see pairing this top with skinnies, boots and a cardigan and wearing it out. For me evaluating it strictly as hanging-around-the-apartment-wear I think it works well. And for whatever it's worth the top is boyfriend-approved. I didn't wait on this top -- it came home with me immediately in a small.
style # 23699150, navy (041)
★★★☆☆

If the front of the
Extended Hours Top
($118) seems a bit staid, try taking a
peek at the back
. Multiple straps converge in a star pattern that adds a little sexy to your evening. As Anthropologie suggests, a cardi or blazer over the top makes it work-appropriate with a surprise for later when you wear it on its own. The top itself is a bodycon poly-nylon-spandex mix. The pattern is band upon band of stripes with stars, dots and florals. A scoopneck and slight shoulder-covering sleeve round out the design.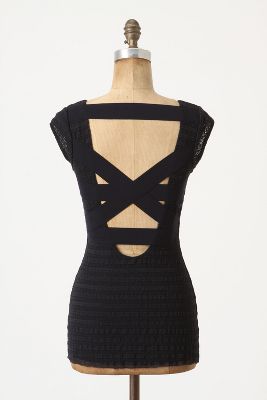 from the back
I grabbed a medium in this top, foolishly thinking it would fit. Sometimes with Bailey 44 you want that close-body fit. Though I managed to squeeze myself into it this top it's clear I need a large. A medium was too tight at both the waist and over the bust. I want to give this top more than three stars, but one thing the online product description conveniently doesn't mention is that your bra straps and band will show through the straps. Not only that, the back is low enough so that even my corset-style bras may be tough to work with. You'd need some kind of magical bra with no back. If you require ample support like me this is going to be a challenge. So I can't give this top more than three stars, although I love the idea. I might try it anyway and see if one of the designer bra stores in the city has something I could use. For now, this top is wishlisted!
style # 24261018, white (010) or bright red (063)
★★★☆☆

I wish two things for this item review: I wish I'd seen the
Peplum Askew Tank
($68) in the bright red color in-store, and I wish it weren't so sheer. I wonder if the bright red is this sheer? A new SA at the Soho store pulled this top for me (she was wonderful! but I didn't catch her name) and was trying to sell me on it, the idea being you could pair any color top under this one to change your overall look. I get it...I'm just not sure I buy it. I'm sick of all the sheer! I do not live a couture lifstyle where it's OK to show my bra (or naked breasts as is the movement du jour) on a daily basis and I think sheer removes much of the feminine mystique. It just looks like the store cheaped out on fabric.
The odd thing is Left of Center didn't cheap out here -- the top is a cotton and silk mix that feels nice and cool against the skin. And I love the peplum placement! If this top had been opaque white I'd recommend a sheer topper -- like this amazing sheer-armed blazer
J from The Look 4 Less
found in a recent post. (While I'm not usually a Forever 21 proponent, the sheer blazer is such a trendy look that I can't imagine spending $$$ on it.) Since the top itself is sheer I see fewer options.
I tried on a medium. I don't mind the slightly boxy fit and I like the gentle v neckline, but I do wish this top were about two inches longer. I fear the effect right now is of a top that I've outgrown. Since my last growth spurt was nearly 10 years ago now (eep!) it seems a little silly perpetuate the idea. So this white version is a pass, but I'm hoping the bright red fares better once I seek it out.
style # 853345, grey motif (008) or 6 other colors
★★★★★
After my review of the
Gauzy Mint Maxi
($138, review
here
) a couple of weeks ago, a few people asked if I would cover the top I was wearing with it. Here we go! Eloise's
Reversible Seamless Tank
($24) can be worn either frontwards as a v-neck or backwards as a scoopneck. For whatever reason, the grey motif version of the tank I tried as well as the cream and black seem to be longer than the other colors. This makes the tank more versatile for a tall like me, though those who are shorter may find the tank's length excessive. The material is clearly poly but gives off a cotton feel from far away.
I found a medium to work perfectly. The tank nips in at the waist and has give over the hips. It's exactly what I need to create an ultra-flattering silhouette. I was very surprised by how much I liked this tank! I had not been impressed by the previous colors I'd tried on in-store. But this grey motif version seems like a real winner. Wishlisted!
style # 22948681, ivory (011) or green (030)
★★★☆☆

Here's another top where I could only find the white version in-store, wishing to try the more vibrant color version instead. Leifsdottir's
Clipped Cities Blouse
($158) looks simple but has a few tailored details to elevate it above the ordinary. The sleeves have a mishmash of tiny, laser-cut out squares and rectangles which give a handmade feel to the top, while the back has a set of pleats that kind of look like wainscoting. The top is polyester ($158 for a polyester top? Really Anthro?) and slightly translucent.
I found that at rest my usual size 6 curved around my bottom, but once I started walking around it flowed out like a cape. And I love me a good cape! The v-neck is perfectly cut to showcase the neck and collarbones without exposing too much cleavage. There's just a hint. The length is fantastic for the urban classic look. I'm just not into this ultra-white version. I know the site says ivory but this top felt brighter. So I'd like to try on the green, and this version went back to the rack.
Here's the
Clipped Cities Blouse
($158) from the back. Note how the bottom curves around my bottom. Flirty shirt!
style # 23660525, sky (045), mauve (054) or navy (041)
★★☆☆☆

Armadillo on my shoulders? Not quite, it's just the
Ruffled Cape Tank
($58) by Deletta. I thought this top might have a cute ruffled shawl effect when I saw it in the store. I do appreciate the design risk taken here.
Deletta is currently manufactured by two factories, making the fit for this brand very confusing! With one factory, I have to size down. The other decrees I size up. This top must have come from the latter factory; my usual size medium barely stretched over my belly. The top also managed to compress my shoulders -- quite the feat! I don't think there's much to say here besides that I'm not impressed. The shawl part of the top isn't attached in front, so you could let it hang in the back like a ruffled gunny sack or cut it off...leaving you with a $58 tank top. No thanks. Pass.